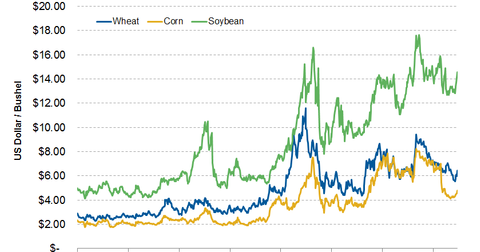 Corn prices rebound after a record harvest sent prices 50% lower
By Xun Yao Chen

Updated
A poor year for crop prices: 2013
After a record harvest in 2013, driven by high plantation acreage, favorable weather, and fertilizer application, crop prices have pulled back from the highs of 2012. Prices of wheat, corn, and soybean all fell, negatively affecting the PowerShares DB Agriculture ETF (DBA) and the PowerShares DB Commodity ETF (DBC). The VanEck Vectors Agribusiness ETF (MOO) and fertilizer stocks such as Mosaic Co. (MOS) and Potash Corp. (POT) were also negatively impacted.
Worst performer
Article continues below advertisement
Corn was the worst performer of all three crops, as it fell from a high of roughly $8.0 a bushel in 2012 to ~$4.3 a bushel in the latter half of 2013 on the back of favorable U.S. production. At the end of 2013, corn prices were below 2011's low prices, while wheat and soybean were on par or above those levels.
Price bounces
The relative cheapness of corn meant farmers would use more corn as feed to grow livestock. Given soybean's relatively favorable economics, farmers are expected to scale back corn plantation this year and allocate more acreage to soybean. That would be negative for soybean prices but positive for corn prices over the long run.
Corn prices were supported by rising prices for dairy products on the back of rising demand from Asian countries. The USDA raised its production forecast for milk in February on expectations of higher cow counts in the second half of the year as farmers took advantage of higher milk prices and moderate feed costs.
Exports rise
Corn prices also got a slight boost on the back of stronger exports, as foreign importers found U.S. corn attractively priced and raised imports. On February 2014, the USDA (United States Department of Agriculture) had cut its ending stock outlook for the 2013–2014 marketing period from 1,631 million bushels to 1,481 bushels. At the same time, the agency raised the average farm price of corn from between $4.10 and $4.70 per bushel in January 2014 to between $4.20 and $4.80 per bushel in February 2014.