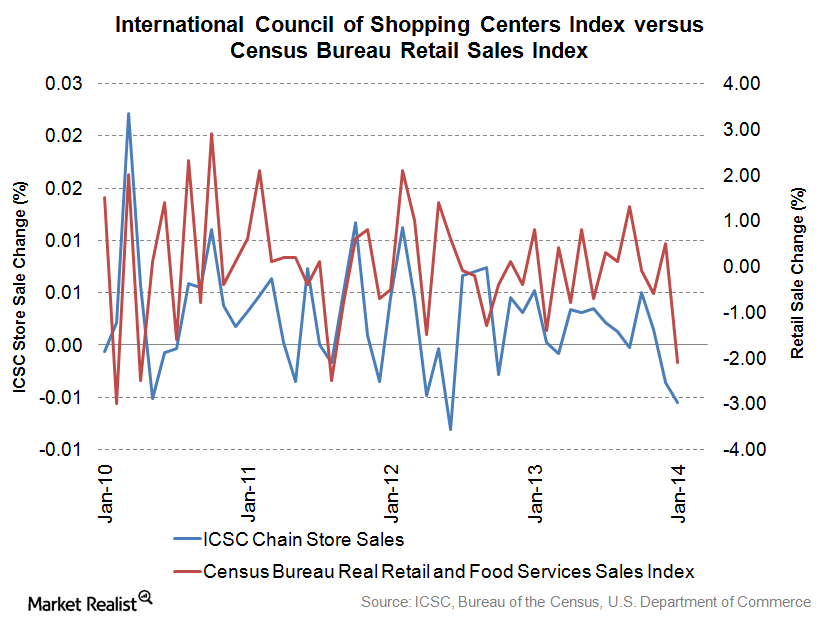 Comparing the ICSC, Census Bureau Retail Sales, and Redbook Indexes
By Sandra Nathanson

Nov. 26 2019, Updated 5:04 p.m. ET
The International Council of Shopping Centers (or ICSC) Index is prepared by UBS, a global financial services firm. The ICSC-Goldman Index provides a weekly snapshot on the U.S. retail chain store sales. The index measures comparable store sales at major retail chains excluding restaurant and vehicle demands. It accounts for roughly 10% of the total retail sales. ICSC and the Redbook Indexes are very similar in the way they are constructed. Both the index use sales-weighted geometric average growth rates to preserve long-term consistency and are statistically benchmarked to the broad-based monthly retail industry. Both the indexes contact the retailers to assess the weekly sales of the stores. However, the Redbook Index is very different from the retail sales published by the government every month.
Article continues below advertisement
The retail sales index prepared by the U.S. Bureau of the Census is published monthly. The index measures the total receipts at stores that sell merchandise and related services to final consumers. The index is a broad barometer of the retail sales as it includes sales of both durables and non-durable goods. Compared to that, the Redbook Index and ICSC Indexes only include chain store sales from the leading stores.
Limitations of the Redbook Index
The Redbook Index has its own limitations like any other index. The same-store sales comparison under the Redbook Index only covers the U.S. stores. However, a company's performance, such that as of Wal-Mart Stores (WMT), Target (TGT), Costco (COST), and Macy's (M), is largely dependent on the company's subsidiaries operating outside the U.S.
Plus, there is a difference of timing between the Redbook Index' compilation of the data and the companies' reports of the same-store sales data. The Redbook Index limits its survey to only a set of large U.S.-based retailers, much lesser than the sample size covered in the ICSC and Census Retail Indexes. Investors looking to invest in particular retail stock and/or the ETFs such as SPY, XRT, PMR, RTH, and BND should use the Redbook Index in conjunction with the other powerful retail indicators including the ICSC and Census Bureau Retail Indexes in their financial decision-making process.