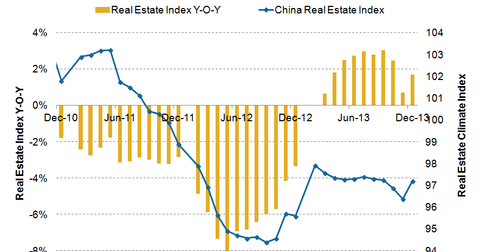 Why China's real estate climate index drives dry bulk shipping
By Yanyu Mao

Mar. 5 2014, Published 8:00 a.m. ET
What is the real estate index and why is it important?
China's real estate climate index is a composite index released monthly by the National Bureau of Statistics of China, reflecting the current situation and development trends of the Chinese real estate market. It's an estimation conducted by scholars in different areas using eight sub-indicators related to land, capital, and sales. It functions as a basis on which authorities develop management policies to regulate the real estate sector.
Article continues below advertisement
Investors in the dry bulk shipping industry should watch for this release, because China's real estate activity significantly influences dry bulk shippers, as it uses a lot of steel. When the real estate climate rises, it's generally considered positive for shipping rates, while falling figures point to a possible negative.
The real estate climate increased a little in the last month of 2013 
In December 2013, China's real estate climate increased slightly, to 97.21 from 96.38 in November. According to the National Bureau of Statistics, figures above 100 show prosperity, whereas figures below 100 mark depression. Since 2009, the index has averaged ~99.4.
Climate index mirrors economic activity and shipping rates
Movements in the real estate climate index closely mirror China's economic growth, the housing market, and demand for iron ore and shipping rates. Housing is the single biggest expense for a typical household, and recently, real estate has also become one of the commonest ways to invest for both households and firms in China. Since China's economy is still largely driven by investment, the macroeconomic conditions in China closely relate to development in the real estate sector. Eventually, real estate will affect dry bulk shippers' stock prices as well as the Guggenheim Shipping ETF (SEA).
Overall improvement in 2013 
Article continues below advertisement
Note that on average, the real estate climate index has improved a lot in 2013 compared with 2012. In 2013, the average monthly real estate climate index was around 97.25, increasing from the average of 95.41 in 2012. What's more exciting is that year-over-year growth in this index was always positive in 2013, while the same indicator was negative throughout 2012. Accounting for seasonality, this contrast suggests that the situation is improving in 2013, and this positive trend is expected to continue in 2014, even though this index hasn't climbed above 100.
The below-average up-trending climate index is positive for dry bulk shippers
A below-average real estate climate index means economic growth isn't as robust as it used to be, but it also means the government is unlikely to tighten stimulus for this sector. Out of several indicators out there, the real estate climate index suggests demand for dry bulks should grow at a decent pace. As long as the real estate climate index doesn't fall sharply, consider it a positive for dry bulk shippers.