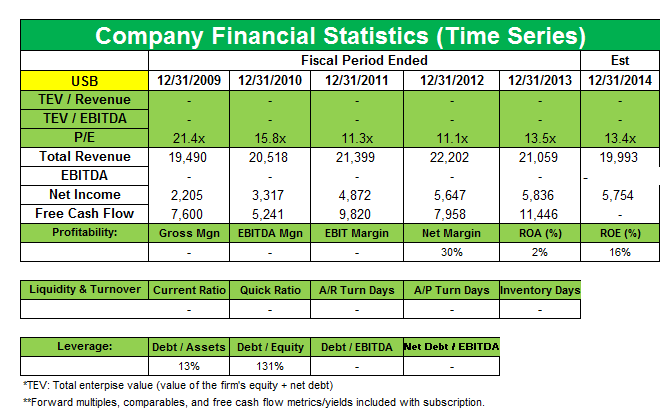 Chilton Investment Company buys a new stake in US Bancorp
By Samantha Nielson

Nov. 7 2019, Updated 6:27 p.m. ET
Chilton Investment Company and U.S. Bancorp

Chilton initiated positions in Abbott Laboratories (ABT), U.S. Bancorp (USB), Macy's Inc. (M), and TransDigm Group Inc. (TDG). The fund sold its stakes in Genesco Inc. (GCO), Bally Technologies Inc. (BYI), and CarMax Inc. (KMX).
Chilton initiated a new position in the multi-state financial holding company U.S. Bancorp (USB) that accounts for 0.92% of the fund's fourth quarter portfolio.
Article continues below advertisement
U.S. Bancorp provides a full range of financial services, including lending and depository services, cash management, capital markets, and trust and investment management services. It also engages in credit card services, merchant and ATM processing, mortgage banking, insurance, brokerage and leasing. It subsidiary, U.S. Bank National Association, with $271 billion in deposits at December 31, 2013, provides a wide range of products and services to individuals, businesses, institutional organizations, governmental entities, and other financial institutions. The company provides banking and investment services through a network of 3,081 banking offices, principally operating in the Midwest and West regions of the United States.
The nation's largest regional lender beat Street estimates in its fourth quarter results. Net income was up 2.5% to $1.46 billion, or $0.76 a share, from $1.42 billion, or $0.72, a year earlier. The increase in net income year-over-year was primarily due to a lower provision for credit losses. Revenue in the fourth quarter was down 4.4% to $4.89 billion, driven by fall in mortgage banking due to lower origination and sales revenue.
Article continues below advertisement
Total average deposits increased by over $13 billion, or 5.4%, in 4Q over the same quarter of 2013 and by $4.5 billion, or 7.2%, annualized on a linked quarter basis. Average total loans were $12.5 billion (5.7%) higher in the fourth quarter of 2013 than the fourth quarter of 2012, driven by growth in residential mortgages, commercial loans, retail leasing, total commercial real estate, credit card, and other retail loans.
In terms of profitability, the bank saw returns on average assets of 1.65% and returns on average common equities of 15.8% as well as an efficiency ratio of 52.4%, placing the company at the top of its banking peer group. Credit quality continued to improve at a 30.1% decline in net charge-offs and a 13.2% decrease in nonperforming assets, excluding covered assets. The decrease in total net charge-offs on a linked quarter basis primarily reflected improvement in the company's construction and development portfolio, as well as improvement in the company's residential mortgages, home equity, and second mortgages portfolios.
On January 7, U.S. Bancorp announced the purchase of a Chicago branch franchise owned by RBS Citizens Financial Group in a deal that would will double the bank's market share in Chicago. A Bloomberg report said the sale would improve U.S. Bancorp's market share of Chicago's deposits to seventh from 12th place, according to Federal Reserve data. The company expects to make further acquisitions to grow its balance sheet, its fee-based businesses, and market share.
In 2013, U.S. Bancorp returned $4.0 billion, or 71%, of its earnings to shareholders through dividends and the repurchase of 65 million shares of stock.