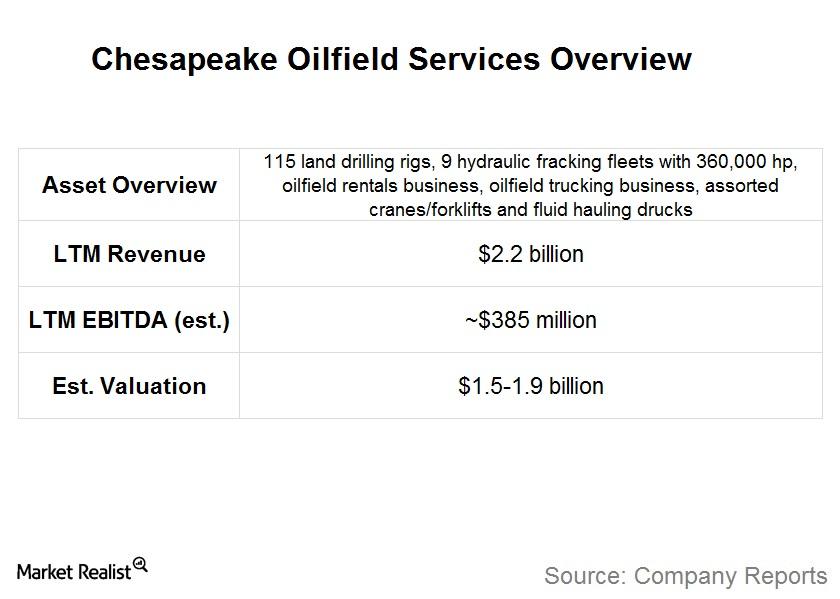 How will Chesapeake's recent asset sales affect the company?
By Ingrid Pan

Dec. 4 2020, Updated 10:52 a.m. ET
Chesapeake will also spin off or sell its oilfield services business
On February 28, 2014, Exterran Partners LP (EXLP) announced that it would acquire certain natural gas compression assets from Chesapeake Energy (CHK) for $360 million. Simultaneously, Access Midstream Partners (ACMP) announced that it would purchase 103 compression units with 200,000 horsepower of capacity for $160 million from Chesapeake Energy. These companies affect the Oppenheimer SteelPath MLP Funds Trust (AMLP) and the SPDR S&P Oil & Gas Exploration & Production ETF (XOP).
Article continues below advertisement
As we've seen, Chesapeake Energy announced that it had agreed to sell certain natural gas compression assets for $520 million. Plus, in late February, Chesapeake had also announced that it would seek "strategic alternatives" for its oilfield services division, Chesapeake Oilfield Services (or COS). Options included a potential spin-off to CHK shareholders or a sale of the division. The division had revenues of ~$2.2 billion in 2013, and it performs drilling, hydraulic fracturing, oilfield rentals, rig relocation, and fluid handling and disposal services. As of year end 2013, the division owned or leased 115 land drilling rigs and had nine hydraulic fracking fleets with 360,000 horsepower, an oilfield rentals business, an oilfield trucking business comprised of 260 rig relocation trucks, 67 cranes or forklifts, and 246 fluid hauling trucks. CHK notes that ~35% of COS's drilling rigs are working for third-party companies, implying that the remaining 65% are working for CHK or are idle.
Potential value of $1.5 billion to $1.9 billion
According to separate filings from the oilfield services division, EBITDA for the nine months ended September 30, 2013, was ~$290 million, implying just over a 17% EBITDA margin. CHK noted that revenue for 2013 from COS was ~$2.2 billion, to get to approximate EBITDA for the year of ~$385 million, assuming the same margins. Currently, similar oilfield service companies are trading at around 4x to 5x enterprise value–to–EBITDA multiples, which implies a ~$1.5 billion to $1.9 billion valuation for COS.
So, with the plan to divest the compression assets and the oilfield service assets, CHK could receive proceeds of up to ~$2.5 billion. Note that the oilfield services separation may be executed as a spinoff (rather than a straight divestiture), in which case the immediate cash impact to CHK would be determined by how the spin-off is structured.
Refocusing capital towards exploration and production
The announcement of these divestitures is likely positive for Chesapeake in the long term. The asset sales allow CHK to concentrate on its upstream business and refocus capital towards exploration and production rather than in midstream or services lines. Plus, the midstream and oilfield services assets under the CHK umbrella may not have been receiving fair valuation, and there may have been some conglomerate discount applied. Separating the assets out may help CHK unlock value from a fairer market assessment of the assets' worth.
These transactions answer some of the market's questions as to how Chesapeake had planned to fund a projected ~$1 billion funding gap for 2014. Management also noted that it expects ~$1 billion of asset sales in 2014, before taking into account any monetization of oilfield services.
To see how the announced transaction affects Access Midstream, please see the next part of this series.