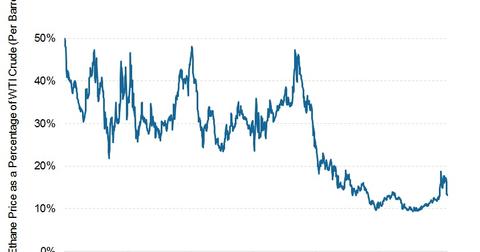 Cheap ethane affects profits and growth for some upstream MLPs
By Ingrid Pan

Updated
Low ethane prices have persisted over the past few years
Ethane prices have also experienced a steep decline over the past few years, also due to flush supply from active drilling in the U.S. Ethane prices (as priced at the natural gas liquids hub of Mont Belvieu) were mostly above $1.00 per gallon in early 2008, before the financial crisis later in the year. During the period of depressed commodity prices in late 2008 and 2009, ethane prices were ~$0.40 to ~$0.60 per gallon, in correlation with most other natural gas liquids and crude oil. After that, the price of ethane per gallon traded mostly within the range of $0.60 to $1.00 per gallon through 2010 and 2011, as other NGLs and crude also traded up. However, from 2012 through now, ethane prices have remained very low, on both absolute and relative bases. Over the past two years, ethane prices have remained mostly below $0.40 per gallon. Plus, where ethane historically traded at prices of around 30% to 50% of WTI crude (per barrel), in 2012, it began to average at 10% to 20% of WTI crude.
Ethane demand from the domestic petrochemical sector is mostly saturated
Article continues below advertisement
Ethane prices dropped because while ethane supply grew, mostly from increased natural gas drilling with a significant natural gas liquids component, demand for ethane could not keep pace. Note that ethane is used mostly by the petrochemical sector for the production of ethylene, which is a basic component of plastics and many other chemical products. As ethane prices dropped over the past few years, U.S. petrochemical companies have tried to use as much of the commodity as possible as a feedstock, and many of these companies (for example, CP Chemical, Formosa Plastics, and Dow Chemical) have announced plans to construct new petchem facilities on the Gulf Coast (a major hub for natural gas liquids) to take advantage of the cheap ethane in the U.S. However, the completion date of these projects is several years off, and in the meantime, much existing ability for the petchem sector in the U.S. to process ethane is saturated.
Ethane exports are possible, but they require significant infrastructure
Plus, to export ethane requires a significant amount of infrastructure, and it's more difficult to export ethane than heavier hydrocarbons such as propane and butane, for which significant export facilities are currently being built to ship these products overseas. Currently, most U.S. ethane exports are limited to volumes that are exported by pipeline to Canada. Enterprise Products Partners notes, however, in its 10-K, "As a result of the continuing abundant supply situation for ethane and its cost advantage relative to other feedstocks, we continue to receive interest from petrochemical companies outside of North America regarding potential long-term ethane export arrangements using marine facilities on the Gulf Coast."
How cheap ethane can change natural gas gathering and processing operations
If ethane gets too cheap, it can become uneconomic to remove it from the raw natural gas stream, and the decision to leave ethane in the raw natural gas stream is called "ethane rejection."
Regency Energy noted in its 10-K, "In addition, we optimize the operations of our processing facilities on a daily basis, for example by rejecting ethane in processing when recovery of ethane as an NGL is uneconomical."
Cheap ethane can reduce the revenues for processors with commodity-sensitive contracts. For example, Enterprise Products noted in its 10-K, "Gross operating margin from our Pioneer natural gas processing plant in Wyoming decreased $81.3 million year-to-year primarily due to the effects of ethane rejection and general production declines, both of which lowered equity NGL production volumes at this facility during 2013 when compared to 2012."
Cheap ethane can also affect the economics of any MLP with natural gas–gathering and –processing operations, such as Regency Energy (RGP), MarkWest Energy (MWE), Enterprise Products (EPD), or Targa Resources (NGLS), which are all components of the Alerian MLP ETF (AMLP).