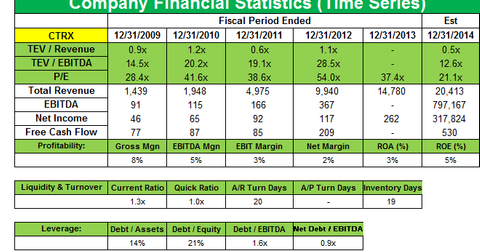 Lee Ainslie's Maverick Capital buys a stake in Catamaran Corp.
By Samantha Nielson

Updated
Maverick Capital and Catamaran
Lee Ainslie's Maverick Capital initiated positions in eBay (EBAY), Valeant Pharmaceuticals International, Inc. (VRX), Catamaran Corp. (CTRX), Calpine Corp. (CPN), and F5 Networks Inc. (FFIV). The fund exited a position in Express Scripts Holding Co. (ESRX).
Pharmacy benefit manager Catamaran Corp. (CTRX) is a new position initiated by Maverick that accounts for 2.46% of the fund's fourth quarter portfolio.
Article continues below advertisement
Catamaran is a leading provider of pharmacy benefit management (or PBM) services and healthcare information technology (or HCIT) solutions to the healthcare benefit management industry. It provides comprehensive PBM systems and services, pharmacy dispensing operations, and related prescription management services focused on reducing overhead pharmacy costs and providing members with excellent care. The HCIT offerings deliver applications on a license, ASP, or fee-for-service basis to customers who administer and manage pharmacy benefits. The company's customers include many of the largest organizations in the pharmaceutical supply chain, such as pharmacy benefit managers, managed care organizations, self-insured employer groups, unions, third-party healthcare plan administrators, and state and federal government entities.
Catamaran shares fell 11% after the company provided a softer outlook in its fourth quarter results. The company posted robust earnings on the back of new clients, the acquisitions of Catalyst Health Solutions and Restat, and a ten-year deal with health insurer Cigna Corp. Net income for the Schaumburg-based company surged 75% to $74.4 million, or $0.36 per diluted share, from $42.5 million, or $0.21 per share, in the same quarter a year earlier. Revenue increased 49% year-over-year, to $14.8 billion in 2013, compared to $9.9 billion in 2012. The company forecast earnings per share to be in the range of $1.35 to $1.50 in 2014, below analysts' expectations.
Catamaran believes the key market factors that influence spending on PBM and HCIT solutions and services by participants in the pharmaceutical supply chain are the amount spent on prescription drugs and the associated volume of prescription drugs dispensed and insurance claims processed each year. Due to factors including aging population and increase in the number of prescriptions, rising drug prices, health information technology stimulus and healthcare reform, the current market opportunity for Catamaran's PBM and HCIT solutions and services in its industry is significant.
Management said Catamaran is very well-positioned to take advantage of the transformational changes in the healthcare industry and will act as a catalyst to drive change to better manage healthcare outcomes and costs for members and clients.