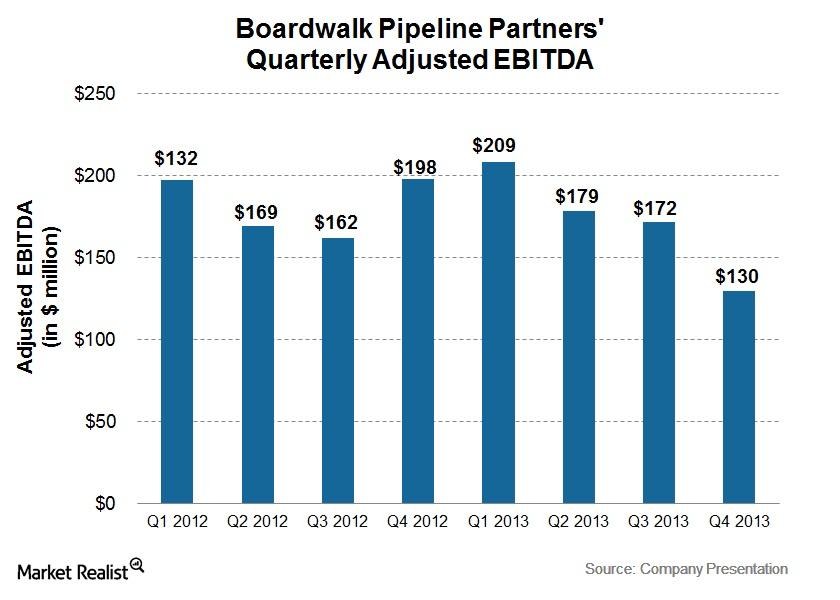 Boardwalk Pipeline Partners: 2014 guidance and 2013 results
By Ingrid Pan

Dec. 4 2020, Updated 10:52 a.m. ET
2014 guidance and 2013 results
On February 10, 2014, Boardwalk Pipeline Partners (BWP) announced 4Q13 and FY2013 results. The company reported 4Q13 adjusted EBITDA of $129.6 million, compared to analysts' consensus of $193 million, and 3Q13 adjusted EBITDA of $172 million. FY2013 adjusted EBITDA totaled $688.7 million. Distributable cash flow for 4Q13 was $138.9 million, and it was $558.6 million for FY2013.
BWP spent $236 million in growth capital expenditures for the year, in addition to $70 million for maintenance capital expenditures. As we've seen, BWP plans to spend $420 million total capex in 2014 ($90 million of maintenance capex and $330 million of growth capex).
Total debt at year end was $3.4 billion, resulting in LTM leverage of nearly 5x. BWP recently noted that it's targeting a leverage ratio (debt-to-EBITDA) of 4x.
Article continues below advertisement
As we've seen, along with reporting earnings for the quarter, BWP also announced a reduction of its quarterly distribution to $0.10, compared to $0.5325 in the prior quarter. The company commented that it would use the cash saved from the reduction in distributions to help fund growth and reduce leverage. BWP expects that with the distribution cut, it won't need to issue additional equity in 2014. Recall that Loews Corp (L) owns the general partner interest and substantial limited partner interest in BWP, and it has offered to provide up to $300 million in loans to BWP to fund growth if necessary.
Plus, BWP guided to distributable cash flow of $400 million in 2014—a $159 million decrease from 2013. As we noted in the prior parts of this series, the reduction in distributable cash flow is a result of factors like reduced natural gas basis spreads, compressed natural gas time spreads, and reduced volatility in natural gas prices. Given the reduction in distributions, BWP expects a distribution coverage ratio for the year of ~4x.
BWP reported weak 4Q13 earnings and provided disappointing guidance for 2014 on EBITDA alongside a distribution cut. Many investors don't believe BWP's cash flow will improve by much in the medium term, given that it takes a while for the benefit of growth capex projects to materialize. Plus, the factors that have pressured BWP's earnings over these past few quarters are secular (long-term) in nature, as at base, they result from increased U.S. natural gas production—particularly from low-cost basins such as the Marcellus and Utica. Industrywide, most expect production from these areas to continue, which means that the trends that have hurt BWP are also likely to persist (reduced basis spreads, reduced time spreads, and lower volatility). BWP could surprise to the upside if market conditions change, which could be the case with wider basis differentials. Also, the announcement of new expansion projects as well as solid returns from projects in the works could help the company.
To learn more about investing in energy MLPs, see Why narrower frac spreads could hurt energy names like MWE.