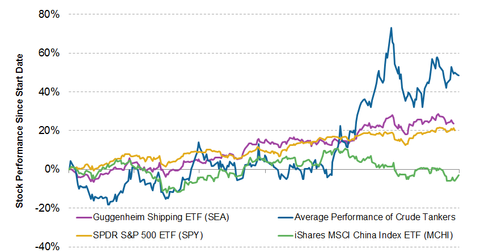 Betting on a Chinese stock rebound? Crude tankers might be better
By Xun Yao Chen

Updated
Crude tankers
November and December 2013 were great months for crude tanker stocks such as Teekay Tanker Ltd. (TNK), Tsakos Energy Navigation Ltd. (TNP), Nordic American Tanker Ltd. (NAT), and Frontline Ltd. (FRO), as they rose ~60% on average. While we weren't all 100% confident the industry would take off, we felt something was brewing around October (see Key tanker stock drivers: Baltic Dirty Tanker Index could bottom).
Relative performance

Article continues below advertisement
These companies are involved in transporting crude oil across the water, particularly from major exporting countries in the Middle East and West Africa to the rest of the world. While they've underperformed the broad market and the Guggenheim Shipping ETF (SEA) since the beginning of the year, they could end up outperforming the broad market over the next few months.
Crude tankers' outperformance is the main reason why the Guggenheim Shipping ETF (SEA) begun outperforming the S&P 500 in December. Before that, crude tankers were one of the worst performers in the shipping industry, dragging the Guggenheim Shipping ETF's performance down.
Betting on two factors
On an industry level, crude tankers might be at the start of a multi-year turnaround, as the second half of this series will suggest. But crude tankers may also be a good option for investors if they don't believe China will see a crash. As some investors know, crude tankers heavily depend on global economic conditions and China's oil consumption growth.
Since November, crude tankers and the Guggenheim Shipping ETF (SEA) have outperformed the iShares MSCI China Index ETF (MCHI). That, in our opinion, says something is going well for the Guggenheim Shipping ETF (SEA) and that the Chinese market isn't benefiting. Please note that these stocks have typically followed the U.S. market more in the past, so if the U.S. market continues to perform better over the medium term, tankers should benefit too.
But before we talk about industries, let's talk about China, because if China is indeed slowing fast, crude tankers will be negatively affected, and perhaps in a volatile manner.