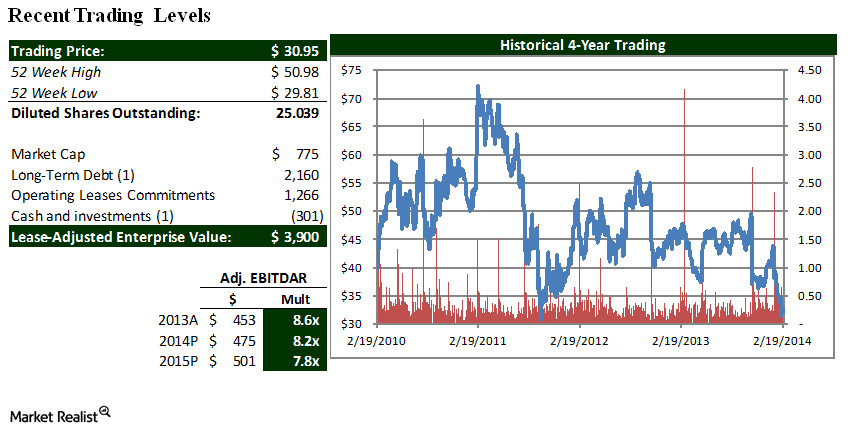 Why Atlas Air Worldwide's transformation will boost its earnings
By Stilian Morrison

Nov. 20 2020, Updated 3:06 p.m. ET
Thesis overview
Atlas Air Worldwide (AAWW) is an outsourced global provider of aircraft and aviation operating services for airlines, express delivery providers, freight forwarders, the United States military, and charter brokers. The company derives a substantial portion of its business from air freight and is in the midst of a transformative fleet exercise to augment its dry leasing business in a move that should offset the impact of military drawdown and reinvigorate its earnings profile. The air freight industry has had a tenuous period since the Great Recession and recovery has heretofore been slow, with new capacity sustaining pressure on load factors. There are, however, signs of optimism for 2014, as business confidence should sustain back-half 2013 trade recovery and there remain no obvious signs of global inventory overhang. Ultimately, I believe that investors are painting too punitive a picture against tangible books value for a company with 81% of direct contribution from wet/dry leasing business that is insulated from first-order fuel, demand, or yield risk.
Article continues below advertisement
Capital allocation is the name of the game, and while I acknowledge that the fleet is not of the most attractive mix, I agree with management's view that there is still life to be had in some of the older generations (e.g. 747-400s). I believe that the asset-light CMI business a compelling growth channel over the next one to two years and a means to de-risk some of the current asset intensity. I am targeting a base case of $53/share (+56% to current) with limited downside, as the company already trades at tangible book value with $1.8 billion of cash on its books and an investment-grade credit rating. At its three-year low, the equity was still worth $29/share (-14% to current).
Company overview
Atlas Air Worldwide ("Atlas") is an outsourced global provider of aircraft and aviation operating services for airlines, express delivery providers, freight forwarders, the United States military, and charter brokers. The company's primary focus is on ACMI/CMI "wet/damp leasing" services, for which Atlas charges customers per block hour[1. Time from the moment the aircraft door closes at departure of a revenue flight until the moment the aircraft door opens at the arrival gate following its landing. Block hours are the industry standard measure of aircraft utilization.] for some combination of aircraft and crew/maintenance/insurance (under CMI, the lessee provides the aircraft). As its military business experiences rapid drawdown from the withdrawal of overseas troops, Atlas has been repositioning itself to grow its dry leasing business as a stable complement to its core ACMI revenue stream.
Article continues below advertisement
The company owns a fleet of 33 aircraft and leases another 13, the majority of which in total are cargo freighters. There is a high concentration of third- and fourth-generation 747s, which comprise four-engine wide-body aircraft geared toward serving extended and longer-range flights. Atlas also has a subset of twin-engine wide bodies that it primarily uses to serve its dry leasing customers (in dry leasing, only the aircraft are leased—i.e. no CMI—on longer terms via monthly or annual rates). Given the fleet composition, the company focuses on long-haul air freight routes (e.g. Asia to North America) and has operations throughout every continent (except Antarctica).
The Market Realist Take
Atlas Air Worldwide's fourth quarter results beat Street estimates despite profit being down. The company posted net income of $30.0 million, or $1.19 per share, down from $52.4 million or $1.97 per share in the fourth quarter of 2012. Total operating revenue for the quarter rose to $470.60 million from $452.77 million in the same quarter last year. Management said that earnings in the fourth quarter of 2013 were led by ACMI operations, a strong contribution by the Commercial Charter segment, which reported a profit for the full year, and growth in Atlas Air's Dry Leasing business. Results were also affected by a substantial reduction in AMC Charter volumes and segment contribution, reflecting lower demand than previously forecast by the military.
Article continues below advertisement
Management said on the earnings call that challenges include an uncertain airfreight environment and outlook for military charter demand. Atlas Air believes it's well positioned to navigate through these challenges with a modern efficient fleet, innovative customer solutions, a diversified business mix, and a solid financial structure. The company also expects to capitalize on market improvement and to continue to focus on the long-term growth of its business.
IATA chief economist Brian Pearce said in his industry outlook that one of the reasons for the poor performance of cargo has been a "modal switch" by shippers from air to sea transport. The outlook stated that demand for air cargo has improved a little in recent months, but essentially has been flat for three years. However, this is a continuation of a longer trend. There's nothing unusual about air cargo's loss of share in the past three years. The weakness of air cargo demand since 2010 has another cause. The bigger cause of recent cargo weakness has been the weakness of overall international trade—ocean freight has suffered as well as air. The "on-shoring" of production has meant that economic growth and the recovering global economy are generating much less international trade than would be expected. The relative weakness of international trade has been seen to weaken both premium travel growth and demand for air cargo.
Article continues below advertisement
The outlook further stated that the divergence of passenger and cargo revenues is even greater than the divergence in demand and volumes because cargo yields have been falling sharply while airlines have been parking many of their freighter aircraft. However, the success of the passenger business has led to more wide-body passenger aircraft joining the fleet—and these have added cargo capacity through their belly holds. The resulting additions to cargo capacity have exceeded demand, so yields have been depressed. Additional capacity compared with stagnant demand reflects in the decline in cargo asset utilization. Freighter aircraft utilization is down an hour from the daily utilization seen during the 2010 peak. Freight load factors have fallen more than 5% points. However, both appear to be stabilizing as capacity growth slows and cargo demand starts to pick up.
The market for ACMI services is competitive. Atlas Air believes that the most important basis for competition in the ACMI market is the efficiency and cost effectiveness of aircraft assets and the scale, scope, and quality of outsourced operating services. Atlas is currently the only provider of ACMI services with the modern 747-8F aircraft. The primary providers presently in the 747-400F and 747-400 BCF/SF ACMI markets include Air Atlanta Icelandic, Kalitta Air, and Southern Air. Global Aviation Holdings, the largest provider of charter air services to the U.S. military, filed for Chapter 11 bankruptcy last year. The company said that the continued global downturn in commercial freight markets coupled with the U.S. military's decision to trim its cargo expansion flying has made it necessary for Global Aviation to file for a court-supervised reorganization process.
Article continues below advertisement
Among the few pure-play or "close-fit" ACMI public comps, Air Transport Services Group (ATSG) is Atlas' closest peer. ATSG provides ACMI services via its two subsidiaries. ABX Air operates Boeing 767 freighter aircraft, while Air Transport International (ATI) operates Boeing 767 and Boeing 757 freighter aircraft and Boeing 757 "combi" aircraft. Combi aircraft are capable of carrying passengers and cargo containers on the main flight deck. In December 2013 and in January 2014, ATSG received notification from its largest customer, DHL Network Operations (DHL), that it would cease using three ATI Boeing 767 aircraft for services in the Middle East by the end of February 2014. Further, as a result of persistent stagnant growth conditions and excess airlift capacity, including projections published by the U.S. military that reflect continued reductions in its demand for cargo (non-combi) airlift, ATSG said it plans to allocate fewer Boeing 767 aircraft to ATI than previously projected. ATSG saw a loss from continuing operations of $19.6 million for 2013, equal to $0.31 per share, compared to earnings of $41.6 million, or $0.65 per share in 2012.
In general, Atlas' listed peers mainly comprise dry lessors like AerCap (AER), Aircastle (AYR), and freight forwarders such as FedEx (FDX), United Parcel Service (UPS), and UTi Worldwide (UTIW). The former still are a smaller component of this business, and the latter are Atlas' primary customer base.
Dry lessor AerCap said on its recent earnings call that it continues to see improving lease rates and demand. In 2013, Europe showed the greatest level of growth, and the North American market remains very robust. AerCap last year agreed to acquire International Lease Finance Corp. (ILFC) from American International Group Inc. (AIG) for $3 billion in cash and the balance in stock. The combined entity will have total assets of $41 billion, a fleet of over 1,300 aircraft, and an order book of 385 aircraft, and it will compete with General Electric's (GE) GE Capital Aviation Services (GECAS), which currently dominates the aircraft leasing industry. Fitch said in a release that it expects the deal to push for further consolidation as "smaller lessors may feel increased pressure to sell or combine with another player to achieve the critical mass necessary to compete effectively in a more consolidated industry."
Freight forwarder UPS said its fourth quarter results were negatively impacted by excess operating costs due to significantly higher-than-predicted volume and inclement weather in the U.S. Both UPS and FDX have announced increases to freight rates despite international customers moving towards cheaper shipping services.