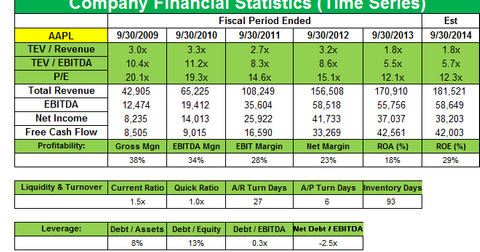 Davidson Kempner Capital buys a new 4Q13 stake in Apple
By Samantha Nielson

Updated
Davidson Kempner Capital Management and Apple
Davidson Kempner initiated positions in Perrigo Co. PLC (PRGO), Lamar Advertising Co. (LAMR), Apple Inc. (AAPL), and LSI Corp. (LSI). The fund and exited its positions in Whitewave Foods (WWAV) and McDonald's Corp. (MCD).
Davidson Kempner added a new position in Apple Inc. (AAPL) that accounted for 2.19% of the fund's 4Q portfolio. Apple found favor with hedge funds last quarter, with Blue Ridge Capital, Icahn Associates, Third Point, Coatue Management, and Citadel Advisors investing in the iPhone maker.
Article continues below advertisement
Apple's stock price was flat for 2013, although the shares rose 33% in the second half of the year, reversing steep losses in the first six months as the company saw concerns regarding slowing revenue growth and losing market share to Android. Apple saw its stock price decline after it reported its 1Q 2014 earnings due to disappointing iPhone sales and a poor outlook. Apple CEO Tim Cook is also facing pressure over a lack of innovation, as Apple has yet to introduce any groundbreaking products, although there have been speculations around a wearable device such as an iWatch or iTV that could offer a new revenue opportunity.
Shares rose recently after a report in the Wall Street Journal stated that Apple is in talks with Comcast (CMCSA) over a joint streaming television service using an Apple set-top box.
Apple, which is known for its premium pricing strategies, launched the new iPhone 5S and iPhone 5C late in 4Q 2013. The iPhone 5C was Apple's first attempt at a "mid-range" product, as it was an "affordable" alternative to its flagship iPhone 5S. The move was to counter increased competition from Android phones from Samsung, Google (GOOG), HTC, and Motorola. In December, Apple and China Mobile announced that they've entered into a multi-year agreement in which the iPhone 5S and iPhone 5C will be available from China Mobile's expansive network of retail stores as well as Apple retail stores across mainland China, beginning January 2014. China Mobile added around one million new iPhone users last month, according to a news reports citing China Mobile CEO Li Yu.
Comscore's latest stats indicated that Apple's market share in the U.S. smartphone market increased by a full percentage point from an average of 40.6% in October 2014 to an average of 41.6% in January 2014.
Activist investor Carl Icahn revealed in January that he had bought $1 billion more shares in Apple over the past two weeks, increasing his stake in the iPhone maker to $3.6 billion. Icahn also sent out a seven-page letter to AAPL shareholders, urging the board to consider a $50 billion share repurchase over the course of fiscal year 2014, as the company has $130 billion of net cash as of September 28, 2013, and that consensus earnings are expected to be almost $40 billion next year. Icahn recently abandoned the plan after Apple CEO Tim Cook said the company had repurchased $14 billion in stock and that "for fiscal 2014, it appears on track to repurchase at least $32 billion in shares." Institutional Shareholder Services Inc. (or ISS) also recommended stockholders vote against Icahn's proposal. Icahn said in a letter that "We see no reason to persist with our non-binding proposal, especially when the company is already so close to fulfilling our requested repurchase target."
For more on the Apple buyback, please read the Market Realist series Why Apple seeks to appease investors through buy-back programs.