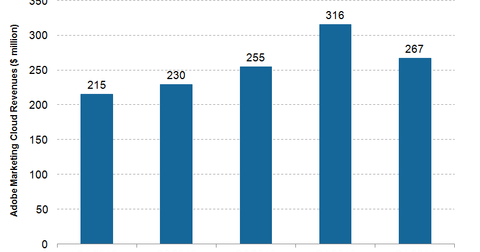 Why does Adobe's Marketing Cloud business look very promising?
By Puneet Sikka

Updated
Adobe's Marketing Cloud caters to marketers need
In the previous part of this series, we discussed about the Digital Media business, which consists of the Creative Cloud and the Acrobat family of products. In this section, we will discuss about another important business of Adobe, Digital Marketing. This business contributes more than 30% towards Adobe's overall revenues, and Adobe Marketing Cloud is its flagship offering in this segment. Marketing Cloud enables marketers to measure, personalize, and optimize marketing campaigns with the help of its array of products in data analytics, social media, mobility, and cloud computing fields. Adobe acquired Omniture in 2009 and built it to produce an array of products in the digital marketing space, such as Adobe Analytics, Adobe Target, Adobe Social, Adobe Media Optimizer, Adobe Experience Manager, and Adobe Campaign.
Marketing Cloud shows strong growth
Article continues below advertisement
As shown in the above chart, Adobe (ADBE) has managed to grow its Marketing Cloud business at a healthy rate. The segment's revenue increased from $215 million in Q1 2013 to $267 million in Q1 2014, an increase of 24%. Adobe also experienced strong bookings growth of 30% for Marketing Cloud in the first quarter. Plus, mobile device transactions increased to 36% of total Adobe Analytics transactions, up from 33% in last quarter. During the conference call to announce the company's 1Q results, the management mentioned that the customers licensing multiple Marketing Cloud solutions include GMC (GMC), Kohl's (KSS), MGM (MGM), NBC Universal, and Under Armour (UA).
Excerpt from the 1Q 2014 earnings transcript
Shantanu Narayen, President and Chief Executive Officer of Adobe mentioned, "In Digital Marketing, Adobe Marketing Cloud achieved 24% year-over-year revenue growth in Q1. We continue to have the most comprehensive offering in the market for Chief Marketing Officers, Chief Revenue Officers, advertising agencies, publishing executives, and digital marketers. To create even more impact for our marketing customers, we are focused on integrating our six Adobe Marketing Cloud solutions. In January, we announced the integration of Adobe Campaign and Adobe Experience Manager. This will allow marketers to use a single digital asset management repository and integrate data from anonymous visitors and identified customers to create personalized customer experiences. Campaign is off to a strong start, as it addresses marketers' challenge to manage communications with their customers across multiple channels."
Article continues below advertisement
"Examples of customers licensing multiple Adobe Marketing Cloud solutions in Q1 included GMC, Kohl's, MGM, NBC Universal, and Under Armour. Last month, we had an exciting event when NBC Sports used Adobe Primetime to deliver the Sochi Olympics to desktops, tablets and other mobile devices. Millions of viewers were able to access events live and on-demand. NBC was able to use Primetime's analytics, authentication, ad delivery, and media playback capabilities to stream video across screens. With more than 10.2 million video stream starts, the men's hockey game between the U.S. and Canada stood out as the biggest, authenticated online event in history."
"In our Digital Marketing segment, there are two components. The first is revenue from our Adobe Marketing Cloud offering, and in Q1 we achieved Adobe Marketing Cloud revenue of $267 million, representing year-over-year growth of 24% and ahead of our target of 20% growth in FY 2014. We drove strong bookings in the quarter, which puts us on pace to achieve our target of 30% bookings growth this year. Total transactions managed by all our Marketing Cloud solutions grew to more than 5.4 trillion in Q1. Mobile device use continues to be a driver in our Digital Marketing business. Mobile transactions increased to 36% of total Adobe Analytics transactions, up from 33% last quarter."