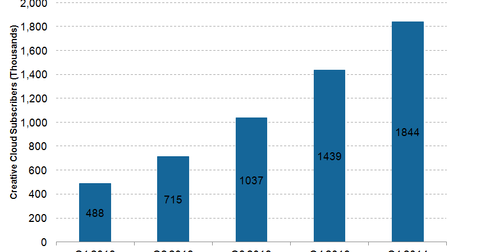 Adobe to end general availability of CS6 perpetual licensing
By Puneet Sikka

Updated
Adobe's Creative Cloud subscriptions increasing at a fast rate
Adobe (ADBE) announced its Q1 2014 earnings recently, in which it mentioned that it now has over 1.8 million subscriptions for its Creative Cloud offerings. The number of subscriptions have seen a fast increase over the last few quarters for Adobe and have increased steadily from 0.49 million in 1Q 2013 to 1.84 million in 1Q 2014. With this achievement, the company hit the milestone where Creative Cloud revenue from subscriptions exceeded the revenue from the traditional perpetual licensing for the first time. As a result of the Creative Cloud's success, Adobe plans to move completely toward subscription-based offering, and end the traditional CS6 perpetual licensing offering.
Adobe looks to tap the booming cloud services market
Article continues below advertisement
Adobe's move to shift its focus completely toward cloud offerings has its motivation from the booming cloud services market. The cloud services market is one of the fastest growing industry. According to IDC, the market will increase from $47.4 billion in 2013 to $107 billion by 2014, at a compounded average growth rate of 23.5%, five times that of the overall IT industry. Not only Adobe, almost all companies in the Enterprise software market are looking to tap the boom. Google (GOOG), SAP (SAP), Oracle (ORCL), and Microsoft (MSFT) have increased their cloud offerings too.
Adobe to focus exclusively on cloud offerings
During the conference call to announce the 1Q earnings, Mark Garrett, Executive Vice President and Chief Financial Officer mentioned, "In our Creative business, customer adoption of Creative Cloud grew quarter-over-quarter. We exited Q1 with 1.844 million paid Creative Cloud individual and team subscriptions. With this achievement, we hit a milestone, where Q1 reported Creative revenue from subscriptions and ETLAs exceeded reported revenue from perpetual licensing for the first time."
"As a result of Creative Cloud success across teams and enterprises, we will soon end general availability of CS6 perpetual licensing in the channel. This decision is consistent with our comments last December when we stated we expected no material revenue from perpetual licensing of CS6 in the second half of fiscal 2014. We anticipate this change will align channel resellers to exclusively focus on Creative Cloud for team subscriptions."