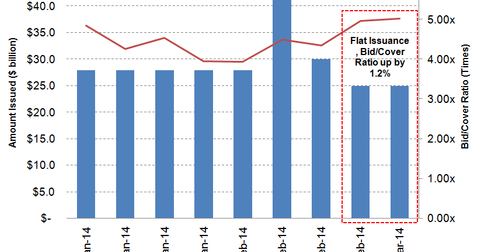 Why was the 3-month Treasury bill auction strong last week?
By Sandra Nathanson

Updated
What is a Treasury bill and how does it work?
Auctioned every week, the Treasury bills (or T-bills) are short-term debt obligations issued by the U.S. government. T-bills are issued through a competitive bidding process at a discount or at par (face value). Based on the investor's demand for the bill, interest rates are determined at the auction. A group of 20 securities dealers, known as primary dealers, are authorized and obligated to submit competitive tenders at the Treasury auction. When a bill matures, the investor receives the face value. The difference between the purchase price and the face value equals the interest earned.
Article continues below advertisement
A range of Treasury bills issued to public comes with various maturities not exceeding one-month to thirty years to match the needs of the investor. Four-week bills are normally auctioned on Tuesdays. Three-month bills(13-week) and six-month bills (26-week bills) are auctioned on Mondays. Fifty-two-week bills are normally auctioned on Tuesdays, every four weeks.
Auction highlights for a three-month Treasury bill
The U.S. Treasury Department auctioned $25 billion in three-month T-bills last week. The bills were auctioned at a discount of 0.05%, unchanged from the previous week's issuance. Since T-bills don't pay interest rate they are always sold at a discount or at par value.
Last week, the three-month T-bill interest rate remained neutral in line with the Federal funds rate target. In spite of that, the bid/cover ratio was 5.02x higher than the previous week's 4.96x for the same amount of issuance, implying higher investor demand. The bid/cover ratio measures the total dollar amount of bids for a particular auction compared to the actual amount of debt sold. The higher the ratio, the more people will want to buy that debt.
In conjunction to the three-month Treasury bill interest rate, the bond prices for the ultra short-term trading equivalents including SPDR Barclays 1-3 Month T-Bill (BIL) remained unchanged. SPDR Barclays 1-3 Month T-bill (BIL) seeks to provide investment results that, before fees and expenses, generally correspond to the price and yield performance of an index that tracks the 1-3 month sector of the U.S. Treasury bill market.
For the investors considering to have government T-bills and bonds in their investment portfolio may consider iShares Short Treasury Bond (SHV), iShares 1-3 Year Treasury Bond (SHY) and iShares Barclays 20+ Yr Treasury Bond Fund (TLT).