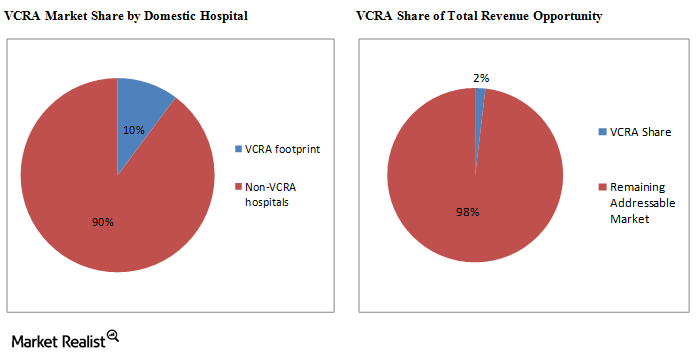 Why Vocera's total revenue opportunity is materially larger
By Samuel Madden, CFA

Nov. 20 2020, Updated 2:50 p.m. ET
Market overview
There are approximately 7,000 hospitals located in the U.S., of which Vocera Communications (VCRA) has contracts with just over 700, implying roughly a 10% market share of potential hospital contracts. Importantly, VCRA's suite of products across both devices and software gives it a cross-selling opportunity within the existing footprint. As its product line is not fully penetrated within its existing client base, its total revenue opportunity is materially larger than what is implied by its contract footprint. Per some Street estimates, VCRA's total addressable market in U.S. healthcare is roughly $6 billion, implying just a 2% share of total revenue opportunity.
Article continues below advertisement
Apart from domestic operations, VCRA has another 100 hospital contracts internationally, where the company is currently building out its footprint in regions such as Singapore and Malaysia. Finally, the company is still in the early stages of developing its non-healthcare business, and it has recently signed contracts with Duke Energy to cover three of its nuclear power plants. In this past quarter, non-healthcare bookings set an all-time record, suggesting improving adoption rates.
While the competitive environment does feature other communications vendors, including those focused on secure texting platforms, VCRA is most often not competing against any third-party vendor whatsoever. Rather, the most common competitor is the hospital's own homegrown system, which can often be bulky, arcane, or even non-existent. The biggest challenge for VCRA is not proving that it is superior to other products; rather, it is convincing hospital CIOs that its solutions generate sufficient ROI to make the investment worthwhile.
The Market Realist Take
Article continues below advertisement
Vocera stated in its filing that the primary competition for its voice communication solution consists of traditional methods using wired phones, pagers, and overhead intercoms. The company's solution requires a significant infrastructure investment by a hospital, and many hospitals may not recognize the value of implementing this solution.
An IDC report last year, "Business Strategy: U.S. Clinical Mobility 2011–2016 – Forecast and Analysis," stated that in the U.S., clinical mobility spending is expected to grow from $2.9 billion in 2011 to $5.4 billion in 2016, a CAGR of 12.7%. Growth in clinical mobility spending in the U.S., although strong, is still facing challenges in the form of demands on IT and the need to respond to health reform initiatives. Some of the important factors expected to impact the market include consumers' increased use of mobile health technologies, increased availability of electronic health information, increased clinical need for mobile access to patient data, and a need for security to comply with Health Insurance Portability and Accountability Act (HIPAA) requirements under the American Recovery and Reinvestment Act (ARRA).
A Frost & Sullivan forecast highlighted that mHealth and cloud computing in healthcare and regulatory environments will be the key subjects in 2014 and beyond. The release stated that mHealth expansion has been fueled by the unprecedented spread of mobile technologies as well as advancements in their innovative application to address health priorities. The implementation of enterprise-wide healthcare solutions via cloud computing will also improve the quality of medical services and the efficiency of operations while reducing expenditures.
Vocera's peer Qualcomm Life (a Qualcomm subsidiary) focuses on device connectivity and data management. The 2net Platform from Qualcomm Life is a cloud-based system designed to be universally interoperable with different medical devices and applications, enabling end-to-end wireless connectivity while allowing medical device users and their physicians or caregivers to easily access biometric data. The company is aiming to build the largest ecosystem of medical device and service companies in the wireless health industry. The website states that Qualcomm Life Ecosystem currently includes over 270 customers and technology partners integrated or considering integration on the 2net and HealthyCircles Platforms.