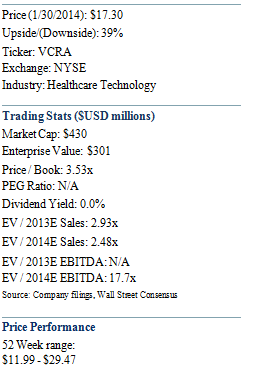 Vocera Communications: Why the stock could see a meaningful upside
By Samuel Madden, CFA

Nov. 20 2020, Updated 4:00 p.m. ET
Thesis overview
Vocera Communications (VCRA) provides a unique solution in the healthcare communications industry and has a leading position in this developing market. The stock underperformed significantly in 2013 (declining 37% YTDversus the S&P 500 up 29%) due to several factors—some internal, some external—that negatively impacted revenue growth.  These factors should either stabilize or improve in 2014, which should put the company on a path to accelerating top line growth, allowing the stock to return to more typical valuations. While VCRA has recovered some of late, there's meaningful upside from current levels in 2014.
Company overview
Article continues below advertisement
VCRA holds a leadership position in the healthcare communication solutions market, where it provides secure, integrated, intelligent communications that improve patient care, safety, and satisfaction. VCRA solutions create efficiencies in clinical settings such as the emergency room, operating room, and inpatient care floors that can increase hospital revenue opportunities and improve staff satisfaction and effectiveness. Communication solutions are of increasing importance to healthcare providers as reimbursement incentives shift from quantity to quality, and as capacity utilization in the healthcare system increases (that is, increasing medical coverage despite the same number of providers).
VCRA generates revenue by selling communication devices ("badges"), maintenance and support services, other professional services, and software. Given the unique characteristics of the badges and software platform, the company's gross margins currently operate at a healthy 65%, and may ultimately move into the mid-70% range. The company has placed an emphasis on investing in the business for top line growth, so EBITDA margins, which are currently minimal, do not reflect the long-term potential of the company. Over time, the business model supports EBITDA margins in the 20% range.
The Market Realist Take
The company said in 3Q 2013 that demand for its communication solutions remains strong but constrained hospital spending patterns continue to extend sales cycles. The company also saw solid bookings in the energy industry, signing new contracts with Duke Energy.
Vocera recently acquired mVisum, a provider of alarm management technology solutions for health systems. The mVisum transaction is an asset purchase, valued at $3.5 million, closed on January 13, 2014.
Article continues below advertisement
Vocera faces competition in the space from providers of in-building wireless telephones and smartphones and related applications (apps). The market for in-building wireless phones is dominated by large horizontal communications companies such as Cisco Systems (CSCO), Ascom, and Polycom (PCLM). Cisco formed an alliance with the tech giant IBM to create an all-in-one digital hospital solution that involves a single comprehensive system that integrates real-time voice and video, clinical collaboration, patient and asset tracking, and instantly available electronic medical records and nurse call information. It also has a wireless campus solution for healthcare that helps clinicians access complete patient records to review medical histories, prescribe medications, track assets, or check on lab tests at the point of care. Polycom offers a number of solutions such as wireless phones and video collaboration for healthcare organizations. Polycom has alliances with robotics firm Anybots and patient monitoring company Vivify Health to develop new healthcare videoconferencing products.
Last year, a research and markets report stated that the global wireless health market is valued at $23.8 billion in 2013 and is expected to reach $59.7 billion by 2018, at an estimated CAGR of 20.2% from 2013 to 2018. The release indicated that the growth of the wireless technologies market is driven by the need for mobile and better-quality healthcare and reduced operating costs. Government initiatives to provide better care facilities have played a vital role in the market's growth. The report stated that the overall wireless health market is highly fragmented, with various players such as Qualcomm, Inc. (QCOM), Vocera Communications, Inc. (VCRA), Siemens Healthcare in Germany, GE Healthcare in the United Kingdom, Verizon Communications, Inc. (VZ), and Cisco Systems, Inc. (CSCO). The handheld devices and mobile apps market is seeing new entrants and intense competition between existing players.