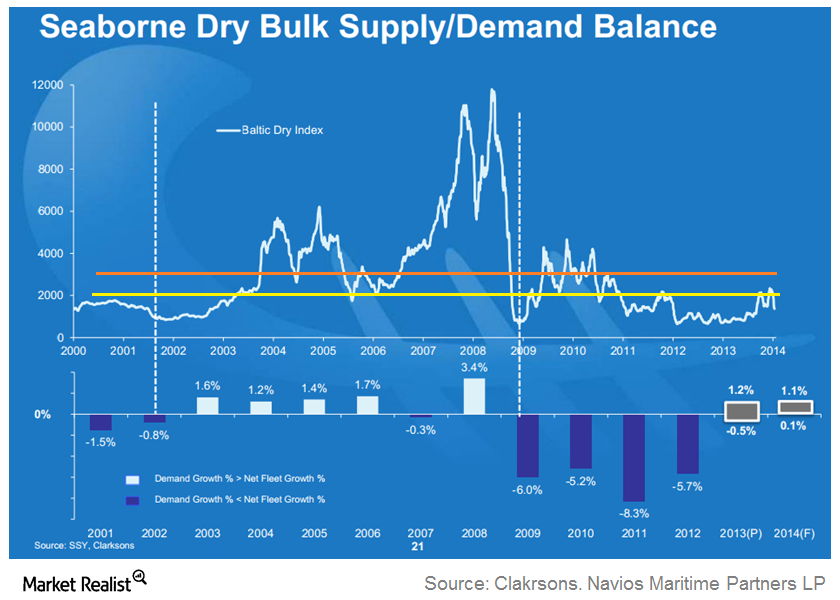 Dry bulks: NMM's CEO says "we're in a very early stage of recovery"
Higher rates
Based on Clarksons' projection presented in Navios Maritime Partners LP's (NMM) fourth quarter 2013 earnings call, demand growth is expected to outpace net fleet growth by 0.1% to 1.1%. Tighter fleet utilization should drive shipping rates higher, which would be positive for the Guggenheim Shipping ETF (SEA) and stocks such as DryShips Inc. (DRYS), Diana Shipping Inc. (DSX), and Star Bulk Carriers Corp. (SBLK).
Early stage of recovery
Article continues below advertisement
Investors should recall that the shipping industry is highly cyclical, as demand for fleets is driven by economic cycles and supply is inelastic for about two years—the time it takes to build vessels. As Angeliki N. Frangou—chairman, director, and CEO of Navios Maritime Holding Inc. (NM)—stated in NMM's 4Q13 earnings call, "Let's understand that we are in a very early stage of recovery."
From 1986 to today, the Baltic Dry Index has averaged ~2,000 (the yellow line in the graph above). From 2002 to today, the Baltic Dry Index has averaged slightly above 3,000 (the orange line). So if the industry will revert to its historical levels, we should see supply and demand balance continue to tighten in 2014 and 2015.
Vessel values rise higher
Prices for newbuilds and second-hand vessels continued to climb higher, according to data from R.S. Platou and SSY—a positive sign for the medium-to-long-term outlook. Newbuild prices for Capesize vessels rose from $53 million to $53.5 million in January, while Kamsarmax vessels were flat. Second-hand vessel values for Panamax rose from $25.5 million to $26.5 million, while Capesize vessels saw a boost from $41 million to $49 million, according to R.S. Platou.
The relationship between rates and vessel value is a simple concept that pops up in other industries, such as housing: if rent is expected to go up or is rising, real estate value will rise, and if people expect prices to rise or think new homes are cheap, they'll bid up the prices.
Orders are rising but still low
Article continues below advertisement
It may sound scary how many ships shipping companies are buying. The number of Capesize vessels on order (that haven't commenced construction) rose to 15.05% during the first week of February as a percent of existing supply, up from ~10% in November. Companies also continued to purchase Panamax vessels, pushing up existing orders to 24.73% of current capacity February 2014—up from 17.82% in November 2013. However, in the past, Capesize orders have ranged from 10% to 80% of existing capacity, while Panamax orders have fluctuated from 10% to 45%. We're slightly cautious about Panamax vessels, but it's important to note that higher Capesize rates could support Panamax rates because these vessels are generally substitutable.
Orderbook as a percent of existing capacity, which includes existing capacity on order and under construction, remains relatively low on a historical basis, at 20.73% on February 7, 2014, according to IHS Global Limited. As long as orders continue to rise, we should see higher rates ahead, which is positive for the Guggenheim Shipping ETF (SEA) as well as other dry bulk stocks such as DryShips Inc. (DRYS), Diana Shipping Inc. (DSX), Knightsbridge Tanker Ltd. (VLCCF), Safe Bulkers Inc. (SB), Star Bulk Carriers Corp. (SBLK), Baltic Trading Ltd. (BALT), Scorpio Bulkers Inc. (SALT), and Navios Maritime Holdings Inc. (NM).
To learn more about investing in the dry bulk shipping industry, see the Market Realist series A strong outlook: An investor's guide to Diana Shipping Inc.