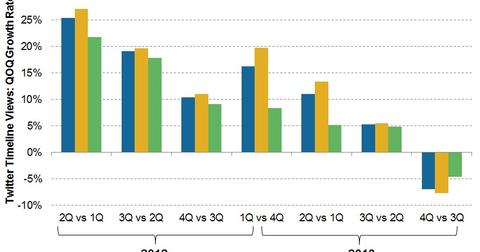 Why did Twitter's earnings leave some investors underwhelmed?
By Ingrid Pan

Updated
Disappointment
There were a few points that may have struck investors as disappointing about Twitter's 4Q13 earnings report. Firstly, Twitter reported average monthly active users of 241 million as of year end 2013, up only 4% over users at the end of 3Q13.
The growth rate for Twitter's user base has decelerated, which has spooked some investors into thinking that Twitter's user growth rate might flatten out sooner than expected—ultimately negative for valuation.
Furthermore, investors were likely surprised by the decline in Twitter Timeline views, which suggests less interaction and slowing growth. Timeline views actually declined sequentially in both U.S. and International markets, despite an increase in the number of users.
Twitter management stated that though this appears to be a decrease in engagement, it believes users are actually engaging more. CEO Dick Costolo stated:
Article continues below advertisement
"I want to point out some product changes we could make could result in short-term fluctuations in some of our operational metrics, particularly timeline views. As a quick reminder, timeline views are kind of a proxy for the amount of content our users consume. If we were impacted in Q4 by a series of product improvements across both iOS and Android that were designed to increase interaction per timeline view. Those product changes worked extremely well driving total interactions and interaction per timeline view up significantly. We are essentially increasing the value of each timeline view as users are interacting with their timeline views at a much higher rate than ever before and the more people interact with each other and the content on Twitter the better it is for our users, our partners, advertisers and for the company obviously."