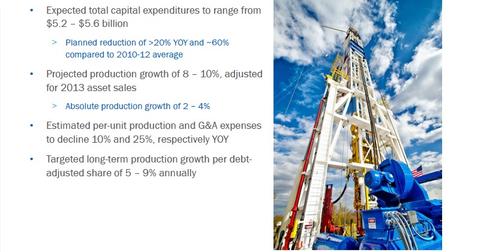 Key takeaways from Chesapeake Energy's latest guidance
By Ingrid Pan

Updated
Chesapeake Energy in context
With a market cap of ~$16 billion, enterprise value of ~$29 billion, and expected 2014E production of 680 thousand to 695 thousand barrels of oil equivalent per day, Chesapeake Energy is one of the largest U.S.-based oil and gas producers. Chesapeake's production is majority natural gas, but over the past few years, the company has been spending more on liquids (oil and natural gas liquids) targeted drilling, as the price of natural gas has remained depressed.
Article continues below advertisement
Historically, CHK had been penalized by the markets, as investors viewed some management practices as overly aggressive. The former management, headed by prior CEO Aubrey McClendon (who had led Chesapeake since its inception), had a tendency to aggressively spend money on acreage—that is, to secure rights to drill on land. However, acreage rights without wells flowing oil and gas can't generate revenue. So, in prior years, Chesapeake had spent vastly more money than it could generate with its own assets. Generally, the company would fill the cash flow gap by selling down some of its assets or joint venturing (letting another company buy an interest in an area so that it can be developed together). Aside from this, management had engaged in practices that the market perceived as possibly not in the best interest of the company.
Since new management has stepped in (including new CEO Doug Lawler, who started in May 2013), the company has pledged to more closely align capex with internally generated cash flow, simplify the balance sheet, and refocus on returns on capital.
That the company gave guidance suggesting that capex ($5.2 billion) and capitalized interest (estimated to be $800 million) would outstrip estimated operating cash flow by $1 billion may have been perceived as mixed news to the market. While a $1 billion funding gap is much less than Chesapeake had to deal with in years past, analysts may have expected that with new management, the cash flow gap might be smaller. On the positive side, CHK noted that despite scaling back capex, it still continues to see higher production year-over-year based on capital efficiencies, and it forecasts debt-adjusted production per share to grow 5% to 9% annually. However, it's notable that oil production growth will be moderate over 2014, with most growth coming from natural gas liquids, which generate lower revenue per barrel. Plus, some participants may have been surprised by CHK's decision to ramp up drilling in the dry gas Haynesville play, as natural gas prices still remain low from a historical context even despite the recent rally that cold weather had brought on.
Investors are likely hanging back until Chesapeake's analyst day in May to find out more information, such as which assets the company plans to sell to close its 2014 funding gap, and which assets CHK plans to leverage to drive its long-term growth objective.