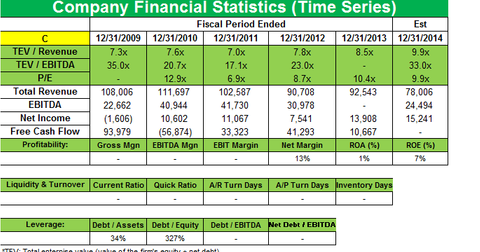 Why George Soros' fund has opened a new position in Citigroup
By Samantha Nielson

Feb. 19 2014, Published 5:00 p.m. ET
Soros and Citigroup
Soros initiated a 1.01% position in JP Morgan peer Citigroup Inc. (C) in 4Q 2013.
Citigroup Inc (C) saw profits more than double in its 4Q results last month, but shares fell as earnings fell short of analyst estimates—mainly due to lower bond trading revenue. The bank reported net income of $2.7 billion, or $0.85 per diluted share. Citigroup, which is trying to cut costs, saw a 15% decline in fixed-income revenue to $2.33 billion, "reflecting a more challenging trading environment." Global Consumer Banking revenues of $9.5 billion declined 5% from the same period the year before due to significantly lower U.S. mortgage refinancing activity and continued spread compression globally.
Article continues below advertisement
Citigroup said on its earnings call that "low interest rates, changing expectations regarding the tapering of quantitative easing, the increase in cost of legal settlements, all had significant impacts on our bottom line." Citigroup's earnings also included a legal expense of $809 million, up 19% from the prior quarter. Analysts were disappointed that the company's operating expenses of $11.93 billion were up 2.4% sequentially.
Citigroup absorbed huge losses during the financial crisis and spun off its non-performing and other non-core assets (mainly U.S. mortgages) into a runoff subsidiary, Citi Holdings. Citigroup has been winding down these assets. As of the end of the fourth quarter of 2013, total Citi Holdings assets were $117 billion, 25% below the prior year period. These assets represented approximately 6% of total Citigroup assets. CEO Michael Corbat said last month that the group's post-crisis turnaround remains on track, and it expects to achieve its turnaround goals by 2015.
Citi's shares have been impacted recently by the selloff in emerging markets due to the bank's exposure to these markets. However, the outlook is still bullish. According to Oppenheimer analyst Chris Kotowski, "Citi's 'emerging markets' exposure is generally not in the current hot spots like Argentina and Turkey, but skewed toward fairly well developed economies like Mexico, Korea, Australia, Singapore and Hong Kong."