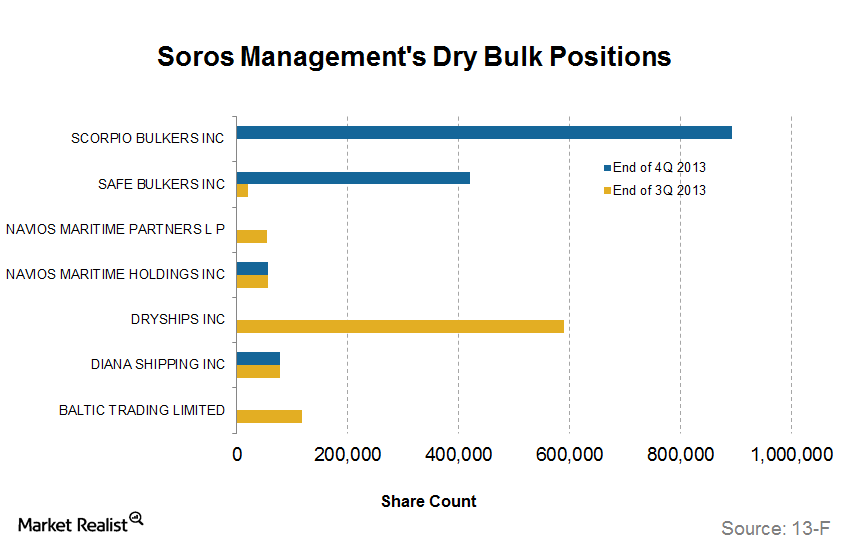 Why Soros upped its dry bulk investment, valued at $15 million
By Xun Yao Chen

Feb. 27 2014, Published 4:00 p.m. ET
Soros management ups its investment
Perhaps as a sign of confidence that dry bulk shipping companies will do well, Soros Management increased its position in the industry during the fourth quarter of 2013. At the end of the third quarter, the total value of the fund's dry bulk shipping positions was just $4.9 million. That ballooned to $15 million by the end of 2013, according to recent 13-F filings—a quarterly filing that must be provided by institutional investment managers with more than $100 million in qualifying assets.
Price appreciation
Article continues below advertisement
Part of the increase in value was driven by share price appreciations for the companies the fund held over the quarter. For example, Navios Maritime Holdings Inc. (NM) traded at ~$7 at the end of September 30, 2013. By the end of the year, it was trading at ~$11. Safe Bulkers Inc. (SB) also rose, from $7 to $10.50, throughout the period.
Those increases weren't as large as the amount of new capital that went into the industry, however. Between the end Q3 2013 and the end of Q4 2013, Soros Management exited Baltic Trading Ltd. (BALT), Navios Maritime Partners LP (NMM), and DryShips Inc. (DRYS) while adding a substantial amount of new shares in Safe Bulkers Inc. (SB) and Scorpio Bulkers Inc. (SALT).
Optimism for dry bulk shipping
The fund might have decided to hold Diana, Navios, Safe Bulkers, and Scorpio, as they've outperformed the industry's average over the past few years due to better management practices. Perhaps the firm boosted its positions in Safe Bulkers and Scorpio Bulkers, since they have some of the highest numbers of newbuilds that will be delivered over the next few years as a percent of existing fleet numbers. This would support the companies' earnings growth.
Hedge fund managers and analysts aren't always right. But Soros Management's increased position size reflects some optimism for the dry bulk shipping industry. Investors who can't take such volatility can use the Guggenheim Shipping ETF (SEA) as a way to get some exposure to dry bulk shippers. Note that the ETF is also exposed to other containerships and oil tankers.
Investors interested in dry bulk shipping should read Must-know overview: Investing in dry bulk shipping. To learn more about recent developments and discussions, please visit the other parts of this series.