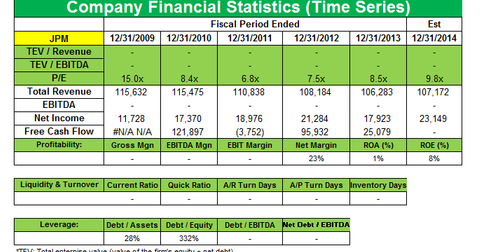 Why Soros Fund Management opened a new position in JPMorgan Chase
By Samantha Nielson

Updated
Soros and JPMorgan Chase
Soros Management initiated a 1.41% position in JPMorgan Chase (JPM) in 4Q 2013.
JPMorgan shares were up in November last year after the bank put its legal issues behind it by agreeing to pay a $13 billion fine over charges of selling bad mortgage bonds ahead of the financial crisis, and the bank paid out $2 billion for its involvement in the Bernie Madoff Ponzi scheme. JPM also agreed to pay $614 million in mortgage settlement recently. The firm has shelled out around $20 billion in government settlements in 2013. It has set aside nearly $30 billion in reserve assets since 2010 to cover its legal expenses.
Article continues below advertisement
Chief executive Jamie Dimon said in the bank's 4Q earnings statement, "We are pleased to have made progress on our control, regulatory and litigation agendas and to have put some significant issues behind us this quarter." He also said, "It was in the best interests of our company and shareholders for us to accept responsibility, resolve these issues and move forward."
The bank posted a 7.3% drop in fourth-quarter earnings as legal costs continued to impact profits coupled with weak results at JPM's investment banking unit. Revenue fell 1.1% to $24.11 billion, and net earnings were $5.28 billion (or $1.30 a share) compared with a profit of $5.69 billion (or $1.39 a share) a year earlier. Investment banking fees were $1.7 billion, down 3% from the prior year, driven by lower debt underwriting fees of $801 million, down 19% from a record prior year, and by lower advisory fees of $434 million, down 7% from the prior year. The bank, like its other peers such as Wells Fargo & Co. (WFC) and Citigroup, also saw a huge fall in mortgage income amid rising interest rates ahead of the Federal Reserve's tapering.