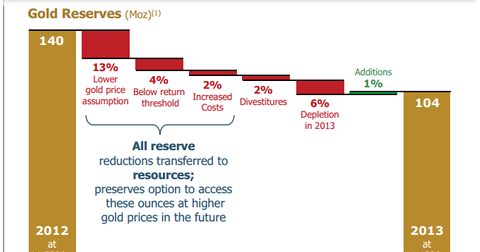 Why did George Soros buy a position in Barrick Gold in 4Q 2013?
By Samantha Nielson

Updated
Soros and Barrick Gold
Barrick Gold (ABX), the world's top gold producer, is a 1.25% position in Soros' U.S. long portfolio initiated in 4Q 2013.
The Toronto-based Barrick Gold reported a fourth quarter net loss of $2.83 billion ($2.61 per share), including after-tax impairment charges of $2.82 billion. The impairment charges included the temporarily suspended construction of its Pascua Lama mine on the Chile-Argentina border in the Andes due to continued delays and cost overruns. A decision to restart development will depend on improved economics and reduced uncertainty related to legal and regulatory requirements. Barrick also retooled expensive assets, leading to charges in three mines in Argentina, Saudi Arabia, and Papua New Guinea.
Article continues below advertisement
Barrick Gold has completed mine plans and reserve estimates using a conservative gold price assumption of $1,100 per ounce in order to prioritize profitable production and returns while retaining the option to access the metal in the future when prices and returns improve. The miner cut down its estimated gold reserves by 26% to 104 million ounces from 140 million last year using the above gold price assumption, compared to $1,500 per ounce in 2012. Mining stocks have been hit by weaker gold prices, and these companies have been pushed to suspend projects, cut costs, and divest non-core or non-productive assets. Barrick Gold has agreed to divest Barrick Energy six high-cost non-core mines and other assets for a total consideration of almost $1.0 billion.
On the bright side, the company maintained the lowest all-in sustaining costs (or AISC) of its peer group in 2013 and expects to retain this position in 2014. Total capital expenditures are expected to decrease by approximately 50% in 2014 to between $2.40 billion and $2.70 billion, a reduction of approximately $2.5 billion compared to 2013. The lower expenditures reflect the temporary suspension of construction at Pascua-Lama and lower mine site sustaining and expansion capital requirements.
Barrick's 2014 gold cost guidance is the lowest among senior producers, with AISC expected to be $920 to $980 per ounce and adjusted operating costs projected to be $590 to $640 per ounce. The company anticipates 2014 gold production of 6.0 million to 6.5 million ounces. Lower production in 2014 reflects the company's strategy to maximize free cash flow and returns over ounces, the divestment of high-cost, short-life mines, lower production from Cortez mine, and the decision to close Pierina mine in Peru. These declines will be partially offset by an increase in production at Pueblo Viejo.
Barrick chief executive Jamie Sokalsky said, "Under a comprehensive plan to strengthen the company, we have become a leaner, more agile organization, better protected against further downside price risk and well positioned to take advantage of attractive investment opportunities going forward."
Barrick Gold Corporation and its peers Harmony Gold Mining Company Limited (HMY), Newmont Mining Corporation (NEM), and Kinross Gold Corporation (KGC) are poised to benefit if the recent rally in gold prices continue.