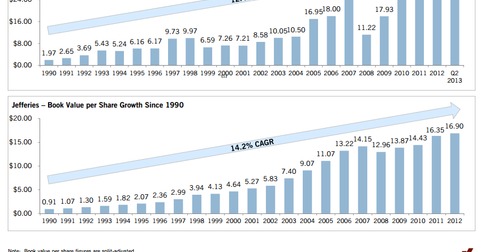 Why did George Soros buy a stake in Leucadia National Corp.?
By Samantha Nielson

Updated
Soros and Leucadia National Corp.
Soros revealed a 1.03% position in Leucadia National Corp. (LUK).
Leucadia is a diversified holding company engaged through its consolidated subsidiaries in a variety of businesses, including full-service investment banking, beef processing, manufacturing, gaming entertainment, real estate activities, and medical product development. The company also owns significant equity interests in various operating businesses that aren't consolidated subsidiaries, including a commercial mortgage origination and servicing business, automobile dealerships, and real estate activities.
Article continues below advertisement
Leucadia merged with global investment banking firm Jefferies Group, Inc. early last year. The merger release stated that the founders of Leucadia, Ian Cumming and Joseph Steinberg, are stepping down from their roles and will hand over control of the company to Richard Handler and Brian Friedman, who were the CEO and president, respectively, at Jefferies.
Jefferies said its results for 2013 were below the previous year's because of a difficult mid-year fixed income environment, but the company saw a strong finish to the year. Jefferies reported a profit of $120.1 million, up from $71.6 million a year earlier.
A December filing revealed that Leucadia is to sell its Gaming Entertainment business to Twin River Management Group Inc. for $250 million. Leucadia's Gaming Entertainment business consists of Premier Entertainment Biloxi LLC, which owns and operates the Hard Rock Hotel and Casino in Biloxi, Mississippi.
Leucadia said last month that it plans to close a beef processing facility with 1,300 workers in Brawley, California. A filing said, "The Brawley facility has performed below expectations since Leucadia's acquisition of National Beef in December 2011, and despite all efforts to improve operating results, is now expected to generate operating losses for the foreseeable future."
Article continues below advertisement
As a result of the decision to close the facility, the company will record an impairment charge for the year ended December 31, 2013, which is expected to be a substantial portion of the book value of Brawley's long-lived assets—approximately $93 million as of September 30, 2013. The unit saw profits fall to $55.1 million in the nine months ended September 30 from $71.3 million a year earlier, as the price for cattle increased. Also, Walmart stopped using National Beef as a provider of its case-ready products during 2013.
The company has often been called "Baby Berkshire," as it has an investment philosophy similar to Warren Buffett's Berkshire Hathaway Inc. (BRK). Leucadia specializes in deep value investing and has a 35-year track record of expanding via acquiring and owning businesses, mainly distressed companies or assets. The company also evaluates disposals of existing assets for creating value. The company concentrates on returns on investment and cash flow to maximize long-term shareholder value.
Leucadia's businesses
The company conducts its beef processing operations through its 78.9% interest in National Beef Packing Company, LLC. Leucadia conducts its manufacturing operations through Idaho Timber, LLC and Conwed Plastics, LLC. The company's domestic real estate operations include a mixture of commercial properties, residential land development projects, and other unimproved land. The company conducts its medical product development operations through Sangart, Inc. Leucadia owns a 50% equity interest in Berkadia Commercial Mortgage LLC, a joint venture with Berkshire Hathaway Inc.