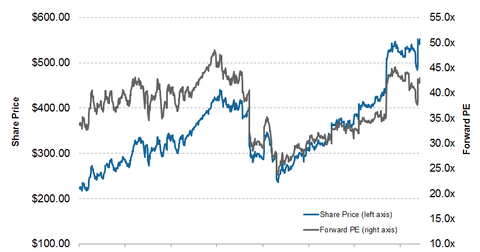 Could a repeat of 2011's drop affect Chipotle stock in 2014?
By Stafani Wan

Updated
Valuation multiples and stock prices
Share prices are driven by two factors: valuation such as Forward PE and earnings revisions. When the latest reported growth in earnings fail to meet expectations, disappointed investors usually start selling, causing prices and forward PE to fall in tandem. Analysts who begin revising their outlook on earnings will also send prices down to reflect a new perspective and expectation.
Intensified competition
Article continues below advertisement
In Q2 of 2012, Chipotle was trading at a forward PE of 40. When Chipotle posted a lower year-over-year revenue growth of 20.89% in Q2 2012, it lost more than 37% of prices in half a week. Revenue growth reported for Q2 2012 was lower than the previous 25.76%, and it was the first decline in five quarters. Year-over-year same-store sales growth saw a large decline, from a record high of 12.7% in Q1 to 8% in Q2.
While "sluggish economic conditions," as management suggested, were a reason for the poor same-store sales growth, Chipotle's performance could have been negatively affected by the solid performance of Taco Bell, owned by Yum! Brands Inc. (YUM), 13% for the quarter ended June 16, 2012, driven by a huge success in the brand's Doritos Locos Tacos. David Einhorn, one of the best hedge fund managers, even bet Chipotle would fall after finding out that "Chipotle's best customers were more likely to prefer Taco Bell's new menu of burritos and burrito bowls," according to a Wall Street Journal article.
Shares went tumbling
Given the poor outlook, investors dumped Chipotle, no longer willing to pay a premium that equated to high growth expectations as same-store-sales fell from 12.7% to 8%. The company's forward PE multiple dove from 40 to 29 in half a week, while share prices dropped more than 28%.
So far, it seems Chipotle is capable of fending off Taco Bell. Taco Bell only reported same-store-sales growth of 3.0% in 2013 compared to Chipotle's 5.6%. Management, and Chipotle fans over Twitter, had doubted the chain could be beaten by Taco Bell, which most described as a lesser rival, when Einhorn recommended shorting the stock at a conference on October 2, 2012. But even if Chipotle is able to fend off Taco Bell, whether Chipotle's growth would be negatively affected—especially if industry-wide restaurant sales deteriorate in performance—is another question for investors to think about.