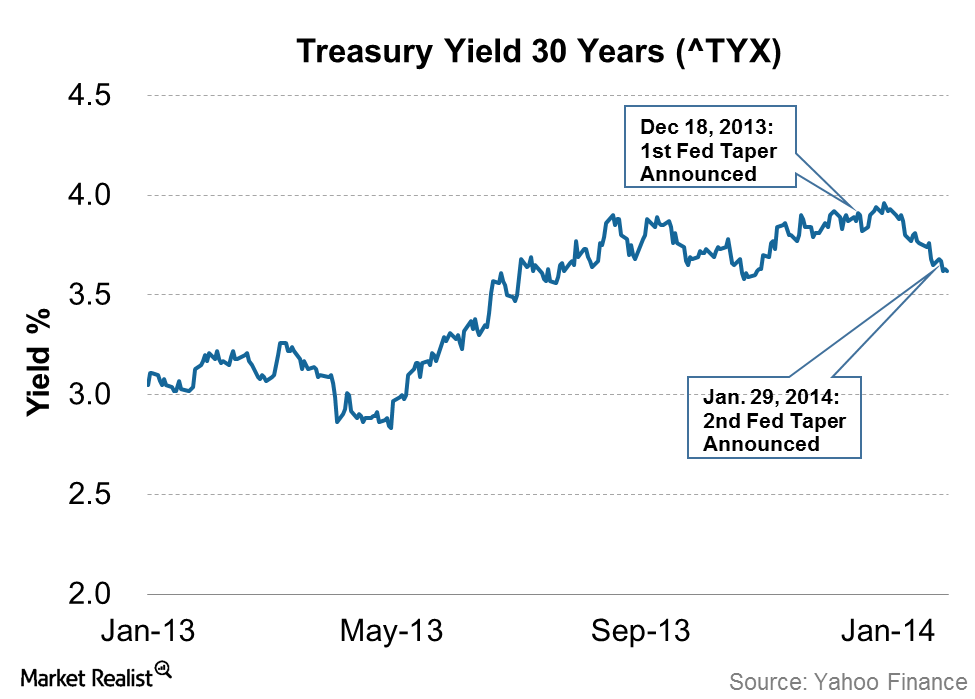 Reactions to the Fed taper question the efficient market hypothesis
By Phalguni Soni

Nov. 22 2019, Updated 5:25 a.m. ET
The FOMC
Are markets really efficient? No, if market reaction to the Fed taper is any indication. Last week, the Fed continued its policy of contracting its economic stimulus program that commenced last December. It has announced a further reduction of $10 billion per month in its open market purchases of mortgage-backed securities (or MBS) and longer-term Treasuries. You would think the implementation of a policy, for which an inkling was provided as far back as May 2013, would have been priced in by markets and preventive steps taken. Instead, markets reversed all trends seen in 2013 and moved to the opposite end of the spectrum.
Last week also marked the end of Ben Bernanke's era as Chairman of the U.S. Federal Reserve after eight years at the helm. His successor, Janet Yellen, took over on February 1, 2014.
Positive announcements
U.S. real GDP grew at 3.2% year-over-year in Q4 2013, up from 0.3% in Q4 2012, spurred by exports (up 11.4%) and a rise in consumer spending numbers, which rose 3.3%—their best performance since Q4 2010. Consumption and exports contributed 2.26% and 1.48% respectively, to GDP growth.
Article continues below advertisement
This series will cover the meeting of the Federal Open Market Committee (FOMC) on January 29, 2014, with an emphasis on the tapering announcement and its impact on bond and equity markets last week. We'll also provide an analysis on last quarter's GDP numbers, announced in January, taken in conjunction with the Fed's announcement.