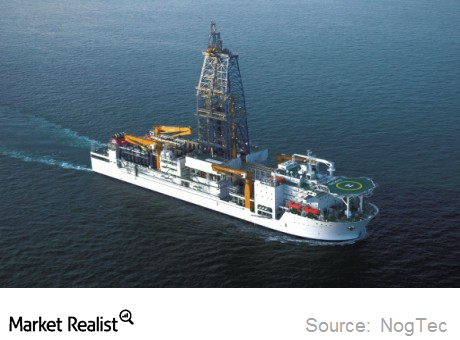 Must Know: A guide to Diamond Offshore's fleet
By Christopher McNew

Feb. 7 2014, Published 11:44 a.m. ET
Overview
As of November 21, 2013*, Diamond Offshore (DO) had a total of 45 Mobile Offshore Drilling Units (MODUs) in its fleet. Generally, each rig is best suited to a few particular environmental and geographical conditions, and their unique characteristics make rig substitution difficult and unlikely to occur. Across the industry, the average life expectancy of a ship is about 25 years, but it's not uncommon for companies to rebuild and renovate rigs that are still in good condition at the end of their lifespan. Retrofitting and reconstruction is common in Diamond Offshore's fleet, and the average fleet age is about 25.72 years. This age was calculated simply by subtracting the "year built" from 2014, and then the average was taken for the entire fleet.
Drillship
Article continues below advertisement
Diamond Offshore has a total of five drillships in its fleet—one in service and four that are currently under construction. These rigs closely resemble a normal ship in both shape and maneuverability, making them the easiest rigs to transport between contracts. Drillships' cargo capacity is significantly greater than other rigs', making them suitable for operations hundreds of miles from shore for weeks at a time. Generally, their shape gives them the most maneuverability but the least stability of all rig types, making them suitable for calmer waters. Plus, all of Diamond Offshore's drillships will have ultra-deepwater capability, allowing them to drill in water depths greater than 7,500 feet.
Semisubmersible
Semisubmersibles make up the bulk of Diamond Offshore's fleet, with a total of 33 semisubmersibles—27 in service, three under construction, and three out of service and up for sale. This rig can partially submerge its hull to provide greater stability as the ship drills into the ocean floor. Some semisubmersibles can propel themselves, while others need assistance from tugboats to move between drilling sites. Because of their rectangular shape and submerging abilities, they are more suited to operations in rougher waters and harsher climates than drillships. Diamond Offshore owns a mix of mid-water, deepwater, and ultra-deepwater semisubmersibles.
Jackup
Diamond Offshore has a total of seven jackups—six in service and one out of service and up for sale. These are also mobile platforms, but they differentiate themselves with their legs, which lower to the ocean floor to provide stable support for drilling and act as a foundation for the rig itself. Because of the need to touch the ocean floor, jackup rigs are typically used in cases where water depths are 400 feet or less, but even jackups are capable of drilling as far as 35,000 feet beneath the Earth's surface.
*Diamond Offshore's most up-to-date fleet status report was issued on November 21, 2013. More information about the fleet can be found on the company's website.