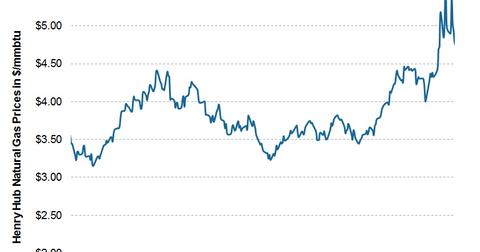 Must-know: Important recent drivers of natural gas prices
By Ingrid Pan

Updated
Last week, natural gas prices closed at $4.78 per MMBtu
The front month contract for natural gas closed at $4.78 per MMBtu (millions of British thermal units) on February 7. This was a 3% drop compared to the prior week's close of $4.94 per MMBtu. Prices dropped mostly on the market's outlook for milder-than-normal weather, which negatively affects natural gas demand. This caused natural gas prices to decline sharply from earlier in the week, when prices peaked at $5.38 per MMBtu.
Article continues below advertisement
Over the past several weeks, colder-than-normal weather and larger-than-expected decreases in natural gas inventory had led natural gas prices to rally. As the cold weather gradually reaches its end, however, the market gradually builds up an expectation for the coming milder-than-normal weather. For more information on the natural gas inventories, please see 1 key reason natural gas prices dropped after a strong rally.
Natural gas prices are especially important for domestic independent upstream names whose production largely includes natural gas, such as Chesapeake Energy (CHK), Southwestern Energy (SWN), Comstock Resources (CRK), and Quicksilver Resources (KWK).
Natural gas price movements are also relevant for commodity ETFs such as the U.S. Natural Gas Fund (UNG), an exchange-traded fund designed to track the price of Henry Hub natural gas (the standard benchmark for domestic natural gas prices).
Natural gas prices are low from a long-term perspective
From a long-term historical perspective, natural gas has been trading at low levels over the past few years. Prior to the financial crisis of 2008, natural gas had reached peaks of over $15.00 per MMBtu. Since 2008, a considerable amount of natural gas supply has come online without an equivalent increase in demand due to the discovery and development of large natural gas shale resources in the United States. Many investors expect natural gas prices to remain relatively depressed, as the development of shale resources has allowed companies to produce natural gas economically at lower prices.
For companies weighted towards natural gas assets and production, prices have an important effect on valuation
Article continues below advertisement
Market participants and upstream energy companies monitor natural gas prices because lower prices translate into lower revenues—and therefore lower margins and valuation for natural gas producers. The chart below shows natural gas prices plotted against CHK's and KWK's stock prices over time on a percentage change basis. The graph shows that the companies' valuations closely relate to natural gas prices.
Negative short-term but positive medium-term trend: Prices remain relatively low from a long-term view
This past week, natural gas prices decreased by more than 3%, which was a negative signal for natural gas–weighted producers in the short run. However, prices remain up ~40% since early November, which is a positive medium-term trend for natural gas prices. From a wider long-term perspective (five years and longer), natural gas prices still remain relatively low, and given the seasonal nature of the recent rally, this trend will likely not translate into a long-term driver.
Fluctuations in natural gas prices most affect natural gas–weighted producers, such as the companies mentioned above (CHK, SWN, CRK, and KWK), and the U.S. Natural Gas Fund ETF (UNG). Investors with such holdings find it prudent to track natural gas prices.