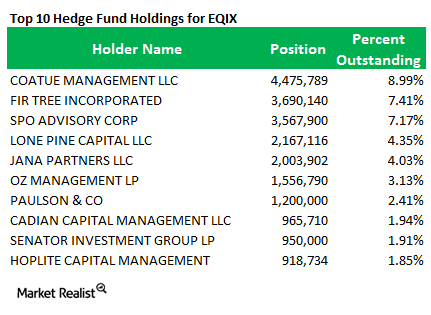 Must-know: Why did JANA Partners open a position in Equinix?
JANA Partners' new positions
Barry Rosenstein's JANA Partners revealed new positions in the fourth quarter in its year-end investor letter. The fund disclosed positions in Equinix Inc (EQIX), Juniper Networks, Inc. (JNPR), Airbus Group NV (EADSF), and Cameron International Corporation (CAM). The $8 billion activist hedge fund also told clients that it plans to close its Nirvana Fund to new investors on or around April 1. The letter further stated that it might close JANA Partners to new investors "at some point in the future, depending on the opportunity set."
For more on JANA Partners and the fund's 3Q 2013 positions, please click here.
The hedge fund firm's flagship JANA Master fund gained 20.4% net of fees and expenses in 2013. On performance, the letter said:
Article continues below advertisement
"Our funds finished the year strong, delivering returns that met our expectations for our business plan and strategy. A year ago we wrote that we believed 2013 would present an attractive opportunity set for JANA's brand of shareholder activism and value + catalyst investing, and the returns we delivered in the fourth quarter and throughout the year were derived from focus on our core strengths."
Why buy Equinix (EQIX)?
Equinix Inc. (EQIX) accounted for a 4.33% position, according to JANA's 3Q 2013 portfolio. The investor letter stated the fund started building its position late in the second quarter and continued to purchase the shares in the third and fourth quarters.
JANA's letter explained:
"EQIX is the market leader in low latency, network dense co-location data centers. We believe there is a wide moat around the specialized services that EQIX provides, even though over-capacity in the lower value added wholesale segment of the data center market has pressured the revenue growth rate and has completely altered investor perception of the quality of EQIX's franchise. We take comfort in the fact that 95% of revenue is recurring monthly, and churn is less than 10% per year. EQIX has not had a down quarter year over year in the last seven years in terms of revenue or OIBDA. In fact, both revenue and OIBDA have grown in excess of 10% every year. Profitability is robust: OIBDA margins are 45% and FCF margins are 25%. Overall returns on invested capital are still low, a result of the heavy investment in growth; but four wall returns are compelling, we estimate at 25%+ after tax, and we pencil incremental returns on capital to be greater than 15%."
The letter further stated:
"CEO Steve Smith and CFO Keith Taylor have been together at the company for six years and have managed through a similar period of a slowdown in growth in the third quarter of 2010. Then, as now, investor confidence was shattered by the slowdown, and to capitalize on the misplaced pessimism, then as now, management announced a share repurchase program. In 2010 the repurchase announcement turned out to be the absolute bottom as the stock went on to triple over the next three years."
In September 2012, Equinix's board approved the conversion to a REIT, and the conversion is scheduled to complete in January 2015. The stock took a dive in 2Q 2013, after news reports that the Internal Revenue Service was scrutinizing Equinix's eligibility for REIT status. A REIT conversion is expected to benefit the company since REITs pay lower taxes and higher dividends than other companies. In November, both Equinix and its peer Iron Mountain Inc. (IRM) said the IRS is proceeding to evaluate their eligibility. Equinix believes it's eligible for REIT status "based on both existing legal precedent and the fact that other data center companies currently operate as REITs." These include CoreSite Realty (COR), Digital Realty Trust (DLR), and DuPont Fabros Technology (DFT).
In December 2013, Equinix announced a share repurchase program of up to $500 million through December 31, 2014.
In January 2014, Equinix announced plans to invest approximately $60 million to build a new data center called ME1 in Melbourne. The company will also open a new data center called LD6 in its highly successful London Slough campus. With $79 million of capital expenditures invested, the first phase is scheduled to open in the first half of 2015. The company also recently announced an alliance with AT&T to speed enterprise adoption of cloud services.