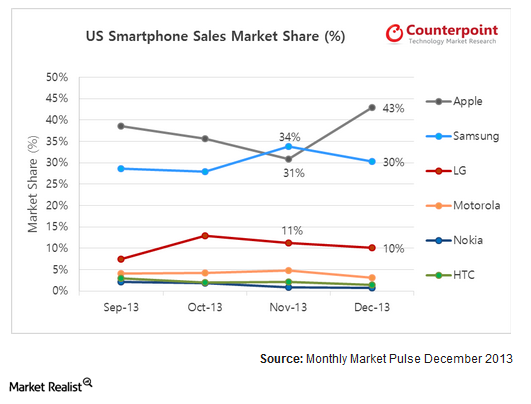 Why Google is expected to profit from its recent Motorola deal
By Samantha Nielson

Feb. 6 2014, Updated 8:45 p.m. ET
Google to sell Motorola
Google entered into an agreement to sell the Motorola Mobility smartphone business to Lenovo (LNVNG) for approximately $2.91 billion. Under the deal, Google is to retain ownership of the vast majority of Motorola's patents, while 2,000 patents and a license on the remaining patents will go to Lenovo. Google had previously sold off Motorola's set-top box unit to Aris for over $2 billion.
Article continues below advertisement
Investors welcomed the sale, as Google's purchase of the handset business in 2012 has been a drain on the Internet company's profit margins. Motorola's losses increased to $384 million in the final quarter of 2013, up from $152 million the year before, as its revenues fell 18%, to $1.24 billion. Google had tried to revamp Motorola's product portfolio with the launch of Moto X, but sales continued to fall.
In an official blog post from Larry Page, Google said it "acquired Motorola in 2012 to help supercharge the Android ecosystem by creating a stronger patent portfolio for Google and great smartphones for users." Page explained the reason for selling Motorola:
"The smartphone market is super competitive, and to thrive it helps to be all-in when it comes to making mobile devices. It's why we believe that Motorola will be better served by Lenovo—which has a rapidly growing smartphone business and is the largest (and fastest-growing) PC manufacturer in the world. This move will enable Google to devote our energy to driving innovation across the Android ecosystem, for the benefit of smartphone users everywhere."
The deal is also expected to end the complicated relationship between Google and its important Android partner, Samsung, as well as other Android handset makers, as Google will no longer be a direct competitor. According to a Wall Street Journal article, a combined Lenovo and Motorola can help offset Samsung's strength, reducing the risk that the Android world is dominated by a single hardware maker. Plus, Google and Samsung signed a ten-year cross-license patent agreement recently, effectively bringing both the companies closer than ever before.
Article continues below advertisement
With the sale of Motorola, Google can focus on the connected devices and smart homes segment. In Larry Page's own words, "As a side note, this does not signal a larger shift for our other hardware efforts. The dynamics and maturity of the wearable and home markets, for example, are very different from that of the mobile industry. We're excited by the opportunities to build amazing new products for users within these emerging ecosystems." Analysts believe the sale completes a turnaround in Google's hardware ambitions from smartphones toward the Internet of Things (or IoT).
On January 13, Google acquired Nest Labs for $3.2 billion in cash. The release said Nest's mission is to reinvent unloved but important devices in the home, such as thermostats and smoke alarms. Since its launch in 2011, the Nest Learning Thermostat has been a consistent bestseller—and the recently launched Protect (a smoke and CO alarm) has had rave reviews, the release states. Nest will continue to operate under its CEO, Tony Fadell, and with its own distinct brand identity. Before co-founding Nest, Fadell was best known for designing the iPod. News reports said Google's acquisition of Nest is expected to strengthen its footprint in the Internet-enabled home gadgets segment.
According to the latest research from Counterpoint's Monthly Market Pulse December report, Apple's (AAPL) smartphone share in the U.S. soared during December, a key month in the holiday season quarter. After a good traction for its low-cost "Moto" portfolio in October and November, Motorola saw its sales dip a bit in December—partly due to the limited availability of Moto G shares across the channels during the month.