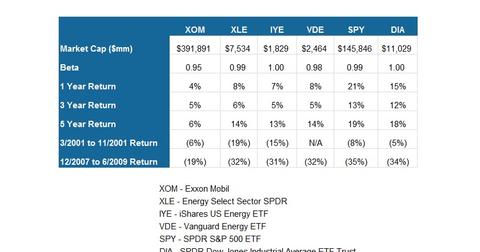 Must-know: Why Exxon Mobil, XOM, is seen as a defensive stock
By Ingrid Pan

Updated
A defensive stock
The market generally views Exxon as a defensive stock. It's one of the largest companies in the entire universe of publicly traded equities, with a long and profitable history and a proven ability to generate significant cash flow.
Plus, Exxon has a large cash balance ($4.9 billion) and currently generates positive free cash flow ($44.9 billion of cash flow from operations generated, compared to $42.5 billion of capital expenditures over 2013). Exxon currently has AAA credit ratings from all of the major credit rating agencies (Moody's, Standard & Poor's, and Fitch), which is the highest designation. Exxon's debt-to-capitalization is ~11%, which demonstrates light leverage and a high capacity to borrow more money if needed. This means that Exxon would be well positioned to last through a recessionary period. In contrast, a smaller oil and gas producers with negative free cash flow, more leverage, and lower credit ratings would be much more likely to become distressed.
Exxon has been in strong financial condition and has been the leading oil and gas company (by size) for many years now. Because of this, Exxon has tended to outperform other energy stocks and the broad market in recessionary periods while underperforming during recovery and high-growth periods.
Article continues below advertisement
The above chart shows XOM performance versus select ETFs over several periods, including two recessionary periods (March 2001 through November 2001 and December 2007 through June 2009). As you can see, XOM tends to outperform during periods of economic weakness. However, Exxon has underperformed over the past one, three, and five years, as the U.S. was undergoing an economic recovery during those periods.
For more background on the company, see the Market Realist series Why Warren Buffett's XOM purchase can affect your portfolio.