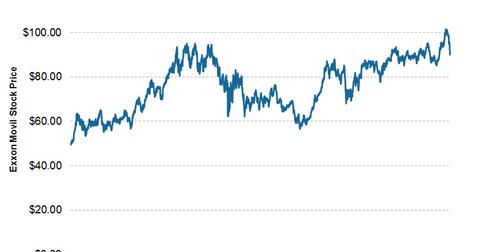 Exxon Mobil: An investor's essential guide to the company
By Ingrid Pan

Updated
Exxon Mobil
Exxon Mobil (XOM) is the largest integrated oil and gas corporation in the world by various measures such as market capitalization ($393 billion), enterprise value ($415 billion), and total production (2013 total production of 4,175 thousands of barrels equivalent per day).
The company explores and produces oil and natural gas in its Upstream segment. It also refines, markets, and distributes crude oil, refined products, and natural gas in its Downstream segment. Finally, the company produces and markets petrochemicals in its Chemical segment.
XOM's net income for the last 12 months ended December 31, 2013, totaled $32.6 billion, or $7.37 per share. Note: Metrics are as of February 4, 2014, end of day.
Currently, the company is trading at EV/2014E EBITDA (enterprise value over 2014 estimated earnings before interest, tax, depreciation, and amortization) of 5.3x, and price to 2014E Earnings of 11.9x (based on Wall Street analysts' consensus).
Article continues below advertisement