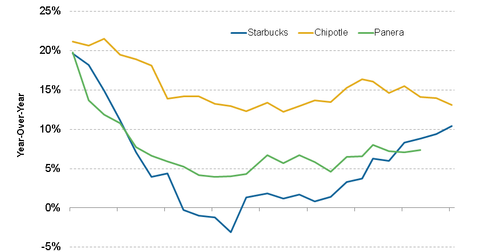 Even with ~20,000 stores worldwide, Starbucks has room to grow
By Xun Yao Chen

Updated
Store count
Perhaps one explanation for Starbucks Corp.'s (SBUX) lower store count growth is the company's sheer size. Relative to Chipotle Mexican Grill Inc. (CMG) and Panera Bread Co. (PNRA), Starbucks has more than 13,000 stores in the United States, while Chipotle and Panera have fewer than 2,000 stores total. This means the number of stores that Starbucks could open going forward could be limited.
Article continues below advertisement
This was the case before 2012, when Starbucks' year-over-year growth in store count trailed Chipotle's and Panera's. While Panera's and Chipotle's store counts grew at 5%-plus, Starbucks' only grew near 2%. But that has risen to ~10% of late. A further breakdown of Starbucks' store count growth would show that the acceleration was largely driven by higher store count growth in the China and Asia Pacific region, which makes up ~20% of the company's total store count.
China and Asia Pacific
Since CAP's importance has grown as its store count grew faster than any other region, new store openings in these countries (China in particular) have become an important source of growth for Starbucks. Although there are only 1,017 licensed and company-operated stores in China, with a population almost four times that of the United States and a growing middle class, China could surpass United States as Starbucks' biggest market in the years ahead.
Americas growth
Growth in the United States is minimal, but it isn't just zero. In the call, management noted an expansion opportunity in drive-throughs. Given the favorable expected returns, Starbucks is looking to make drive-throughs 60% of the 1,500 planned new store openings in the United States over the next five years. It's also noteworthy that while the United States makes up a large percent of Starbucks' Americas segment, investors shouldn't forget that there are opportunities in countries such as Canada, Mexico, and Brazil that have shown above ~10% store count growth overall.