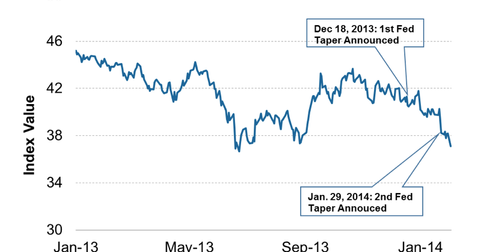 Why the emerging market rout contributes to flight-to-safety flows
By Phalguni Soni

Updated
Tapering and emerging markets
While December and January's twin tapering announcements were partially responsible for fund outflows from emerging markets to U.S. bond markets, these economies have been struggling lately with their own issues. Most emerging market economies are currently suffering from the twin problems of high current account deficits and high fiscal deficits—especially the relatively larger economies of Turkey, Indonesia, India, Brazil, and South Africa.
The iShares MSCI Emerging Markets Index (EEM) was down 2.8% since Friday and 11% year-to-date.
China manufacturing contraction
Article continues below advertisement
While high fiscal and current account deficits were not a problem in China, two factors contributed to the country's economic vulnerability. One, its December PMI numbers were estimated at 49.5% by HSBC and Markit Economics, which means that manufacturing actually contracted. This indicator, serving as a major bellwether for the overall global economy, renewed fears that growth momentum was slowing.
Secondly, there have been increasing concerns about China's shadow banking system with its wide spreads between official interest rates and rates in the shadow banking system and how highly leveraged projects face increased risk in the event of domestic contraction. China not only manufactures goods for export to other countries but is also a very large consumer for other emerging markets (especially in Latin America and Australasia).
Currencies such as the Argentinian peso and the Turkish lyra raised interest rates sharply to prevent capital flight following the Fed taper. On January 28, the Turkish central bank hiked the interest rate on overnight loans from 7.75% to 12% and the rate on its overnight borrowings from 3.5% to 8%. Argentina's currency plummeted 23% in January 2014—the worst performance by any emerging market currency since 2009. While tapering had an impact, the government's foreign exchange reserves had declined by 34% over the past year and the interest rate has been raised by 6% since January 27 to defend against a peso sell-off versus the U.S. dollar. The Turkish Central Bank reacted by hiking the overnight lending rate from 7.75% to 12.5%, but the Turkish lyra still remained weak.
To find out what these and other developments mean for the bond price outlook, continue to Part 4 of this series.