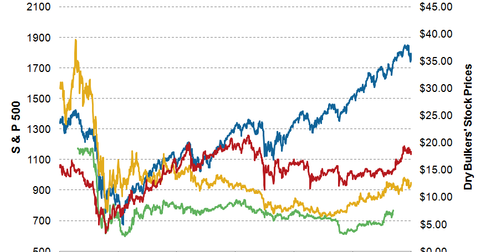 Why dry bulk shipping closely correlates with the world economy
By Yanyu Mao

Nov. 22 2019, Updated 6:22 a.m. ET
The cyclical nature of dry bulk shipping
Unlike other industries, the performances of dry bulk shipping companies highly correlate. These companies are directly impacted by the world economy. When the world economy is doing well, these companies all benefit and outperform. But when the economic situation looks bad, they all suffer. The dry bulk shipping industry is therefore cyclical, depending on the macro economy.
Article continues below advertisement
Capital markets aren't only sensitive but also realistic, so even minor changes in important economic indicators for major markets and commodities may affect dry bulk shipping companies' stock prices. Investors need to keep track of the worldwide economy and have a good understanding of it in order to choose the optimal time to invest in dry bulk stocks.
The key to investing: Finding useful information
However, keeping up with the current dry bulk shipping trends can be exhausting for investors. The problem isn't that there's no information, but that there's too much information to watch for every day. New statistical data and news release never stop coming out—some of which might not be as helpful as people expect. Plus, the voice of the press and media are so loud that individual investors who lack sufficient financial knowledge can easily get confused.
So the key to successful investing is picking up the most useful data from the ocean of information and analyzing the deeper meaning. The numbers themselves mean nothing until you put them in a meaningful context.
The question for now
Even though most analysts have reached the consensus that the fundamentals of supply and demand in the dry bulk shipping industry have improved, the underlying question for now is whether this improvement is strong enough to benefit dry bulk shippers in the coming one or two years. Investors should probe into both the supply and demand sides of the question to come up with a more considerate judgment.
In this series, we'll discuss in detail some important indicators to help investors draw a more comprehensive picture. To learn more about investing in this industry, see also the Market Realist series Must-know overview: Investing in dry bulk shipping.