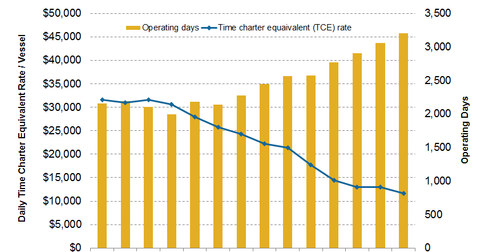 Timeline: Diana's time charter fell despite higher BDI in 4Q13
By Xun Yao Chen

Updated
Earnings miss
Diana Shipping Inc.'s (DSX) revenue for the fourth quarter, $39.5 million, missed analysts' consensus of $42.6 million. This revenue miss was the key factor that led to the earnings miss. But what caught our eye was Diana's TCE (time charter equivalent) revenue per vessel—the rate that ship owners lend vessels out. Even though the Baltic Dry Index (which reflects the overall price of transporting dry bulks across water) rose, Diana's TCE fell.
Contracts rolling over
As it turns out, Diana Shipping Inc. (DSX) didn't have a vessel that it was able to recharter out at a higher rate than prior contracts, when the Baltic Dry Index was rising. A few vessels were scheduled to be contracted out at lower rates. This includes rechartering the following Panamax vessels.
Thetis out at $8,300 gross rate per day from September 1, 2013 (down from $10,500 prior)
Clio for $8,600 gross rate per day from August 22, 2013 (down from $10,750 prior)
Triton out at ~$11,500 gross rate from November 11, 2013 (down from $19,500 prior)
These lower rate contracts pulled Diana's time charter equivalent rate lower.
Houston and Shagang
Article continues below advertisement
Revenue also took a hit when Shagang Shipping Co. terminated its $55,000 gross rate a day contract with Diana Shipping's Houston Capesize vessel, so Diana had to find a new customer and recharter it out at current market rate of $20,5000, starting in December 3, 2013. The original expiration date was set a October 3, 2014, but Shagang Shipping claimed they were entitled to terminate the charters for "purported breaches" by Diana, effective November 26, 2013. In its earnings call, Diana said it believes it has fully performed its obligations and expects to recover the losses as a result of Shagang's breach, but who really knows. Turns out, Shagang defaulted on Diana's contract before in December 2011.
New deliveries 
Diana's daily time charter equivalent rate per vessel for the quarter would have been lower if it wasn't partially offset by deliveries of Capesize P.S. Palios and Kamsarmax Myrsini, which commenced operation at a rate of $18,350 gross rate from December 3, 2013, and at $15,500 gross rate from October 12, 2013, respectively.
Will Diana's average TCE revenue improve? Let's find out in the next part of this series.