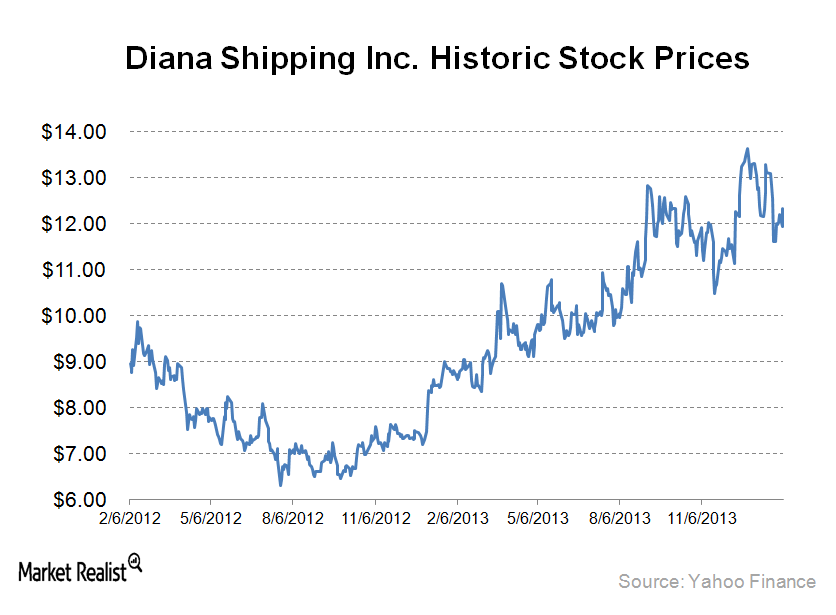 Why Diana Shipping Inc. is a dry bulk shipping specialist
By Yanyu Mao

Nov. 20 2020, Updated 12:05 p.m. ET
Basic Information
Diana Shipping Inc. (DSX) is a global provider of shipping transportation services headquartered in Greece. The company was founded in 1999 as Diana Shipping Investment Corp., and then it changed its name to Diana Shipping Inc. in February 2005. Diana specializes in the ownership of dry bulk vessels. As of January 31, 2014, Diana Shipping had a market value of $993.67 million, with 82.23 million shares outstanding.
What's Diana's business?
Diana Shipping has a global footprint. It transports major commodities such as iron ore, coal, and grain around the world in and out of emerging markets—from the Asia Pacific region to various overseas export markets, including the United States and Europe.
In Q3 2013, Diana Shipping reported a net loss of $3.2 million. The company's net loss for the nine months ended September 2013 amounted to $11.6 million, compared to net income of $49.6 million in the same period in 2012.
Industry versus company performance
Article continues below advertisement
There has been a lot of chatter going around about the shipping industry recently as world macroeconomics change. While the shipping industry's performance is largely determined by external conditions, whether an individual company will outperform or underperform compared to its peers is subject to the company's own operating efficiency. This series will focus on analyzing key company drivers regarding Diana's fleet composition, charter coverage, operating expenses, and leverage.
To learn about Diana's management, see CEO profiles: DSX's Simeon P. Palios and SB's Polys Hajioannou.