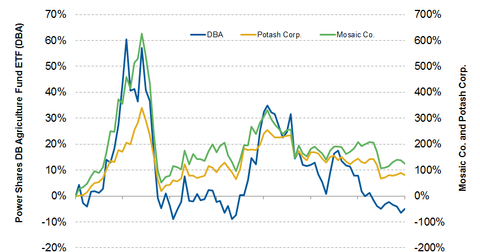 The DBA ETF strongly relates to POT and MOS historical performance
By Xun Yao Chen

Updated
Crop prices
Although demand growth is essential for the long-term health of the potash market and Potash Corp.'s future earnings and cash flows, it's important to consider that for the last seven years or so, crop prices have been the key driver for Potash Corp. (POT), Mosaic Co. (MOS), and Intrepid Potash Inc. (IPI).
While potash price affects these companies' revenue and earnings, a major factor that affects how much these potash producers are able to charge customers depends on how much farmers are willing to pay. In, turn, that depends on crop prices.
DBA and potash stocks
The Power Shares DB Agriculture Fund ETF (DBA), for example—which tracks a basket of agriculture commodities such as sugar, soybean, cattle, corn, and cocoa—have moved closely to Mosaic Co. (MOS), Intrepid Potash Inc. (IPI), and Potash Corp. (POT) in the past.
Article continues below advertisement
When DBA started to rally in 2007, driven by worldwide commodity inflation, potash stocks took off as well. It was only after a few months that potash prices started to rise. When the DBA started to top out in early 2008, potash stocks also came down a few months later. But potash prices fell at a slower rate. As commodity inflation started to cool in 2011 and emerging markets rolled over, potash stocks also rolled along. In this way, investing in potash stocks is like investing in agriculture commodities. Note that potash prices have lagged stock prices in the past.
Potash stocks crashed ~20% on the day Uralkali said it was switching its strategy. In the second half of 2013, though, the DBA was near 2009/2010 levels. All else equal, perhaps it was just a matter of time stocks (and maybe potash prices would have fallen lower), and Uralkali's breakup had only accelerated this move.
So unless we see crop prices start to run, we shouldn't expect a strong recovery or rally among potash stocks and the VanEck Vectors Agriculture ETF (MOO). Then again, commodities can move fast if they want to move.