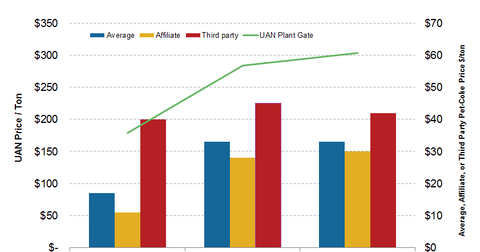 CVR Partners' unique approach: Making fertilizers using pet coke
By Xun Yao Chen

Updated
Pet coke: Input
CVR Partners employs a gasification process licensed from an affiliate of General Electric to produce nitrogen fertilizers, which uses pet coke as a primary input. Pet coke is produced as a byproduct when a refinery refines lower-quality (heavy or sour) crude oil. Because the fertilizer plant is located in Coffeyville, Kansas, CVR Partners buys coke from the Midwest pet coke market, which is said to be less volatile than the Texas Gulf Coast pet coke market.
Contract with CVR refining
Article continues below advertisement
According to the partnership's latest annual filings, CVR Partners purchased more than 70% of its pet coke needs from CVR Refining's crude oil refinery, based on a long-term agreement. The remaining requirements would be purchased from third parties at spot prices. If there's a shortage of pet coke, CVR Partners' fertilizer facility can also use low-grade coal as an alternative, available from multiple suppliers within 60 miles of the plant.
The price that CVR Partners pays for pet coke is based on the lesser of pet coke price derived from the price received for UAN, or the UAN-based price, and a pet coke price index. The UAN-based price starts with a pet coke price of $25 per ton based on the price per a ton of UAN at $205, excluding transportation cost. Pet coke price will rise or fall by $0.50 per ton for every $1.00 change in UAN. The UAN-based pet coke price has a ceiling of $40 per ton and a floor of $5 per ton.
Implications for CVR Partners
For the years ended December 31, 2010, 2011, and 2012, third-party pet coke prices have averaged $40, $45, and $42 per ton, respectively. The pet coke that CVR Partners paid from its affiliate averaged $11, $28, and $30 per ton over the same period. If there were other nitrogen fertilizer producers using pet coke as an input, CVR Partners would show higher profitability overall based on where pet coke and UAN prices have stood over the past few years.
If UAN price rises, though, CVR Partners' earnings may not benefit as much, because UAN-based pet coke prices would rise. But if UAN prices fall, the partnership's earnings wouldn't contract as much, since UAN-based pet coke prices should also fall.