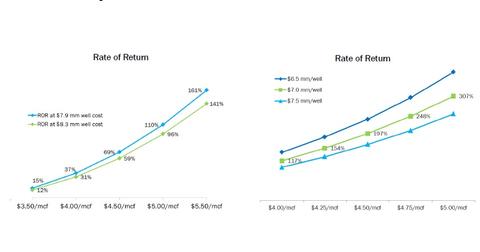 Why Chesapeake's drilling plans may have surprised some investors
By Ingrid Pan

Updated
A surprise
However, one thing that did surprise some investors was Chesapeake's decision to intensify its activity in the dry gas play of the Haynesville Shale, given that consistently low natural gas prices have led to dry gas–targeted drilling activity declines among most upstream companies.
Chesapeake noted that it would be increasing its activity in the Haynesville Shale in 2014, to operate an average of seven to nine drilling rigs there over the year. At the end of 2012, CHK was running three rigs in the Haynesville and was running roughly four rigs over 2013, with more rigs coming on during 4Q13. Currently, CHK is operating seven rigs in the Haynesville, and will be adding another one in a month.
When asked why it was increasing activity in the area when it appeared that other plays, such as the Marcellus North, might have higher rates of return, Chesapeake management stated:
Article continues below advertisement
"The Haynesville asset is… a world-class gas asset that has not been optimized with respect to capital efficiency, and the opportunity there we see as very, very competitive. We've already recognized with the base level of rigs that we ran in the latter part of 2013 significant cost improvements. And those cost improvements make the Haynesville a much more competitive investment for the company. With respect to minimum volume commitments, that definitely weighs into it. It's not the primary driver though because we see excellent value in the investments there, and a minimum volume commitment is essentially a sunk cost. We're looking at how we can drive the greatest value with the capital that we invest, and Haynesville is a very attractive area for us."
In lay terms, CHK noted that it has realized some cost efficiencies in the Haynesville as it has increased activity there. Plus, the company has some minimum volume commitments with respect to services it uses for natural gas gathering, processing, and transportation, and if CHK didn't meet some minimum threshold, it would have to pay a fee to these service providers (which are generally midstream companies such as Regency Energy). CHK acknowledged that minimum volume commitments might have weighed on the company's decision to ramp up activity in the dry gas basin, however, this was not the primary driver.
Meanwhile, Chesapeake noted that it was pulling back some oil investments in areas that it regarded as not the most efficient uses of capital. In 2014, CHK plans to reduce its rig count in the Mid-Continent area, which had some oil production. Chesapeake asserted that reducing activity in some of these areas has resulted in better overall returns. Also, management noted that CHK has slowed its activity in the Eagle Ford (an oil play) in the meantime as it plans an optimal approach to developing the area.