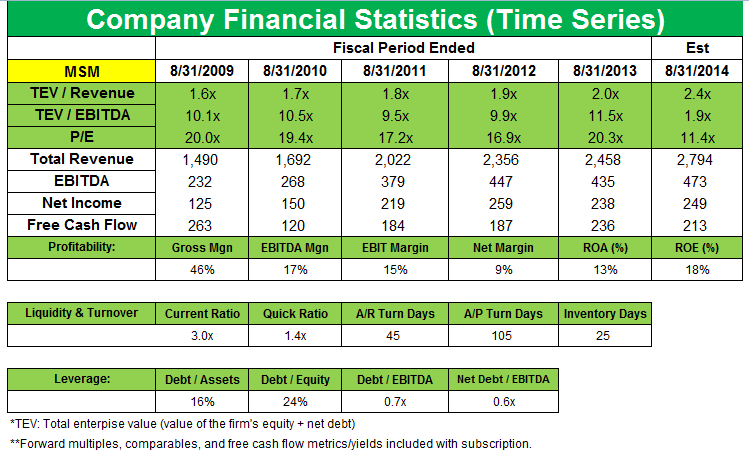 Why Cantillon opened a new position in MSC Industrial Direct
By Samantha Nielson

Nov. 20 2020, Updated 10:50 a.m. ET
MSC Industrial Direct
MSC Industrial Direct (MSM) is a 1% position in Cantillon's long portfolio. MSC Industrial Direct is a distributor of metalworking and maintenance as well as repair and operations (or MRO) supplies to industrial customers throughout North America.
The company, which recently reported its first quarter results, said the solid performance in 1Q 2014 can be attributed to the stabilization of the manufacturing environment that began to show potential signs of improvement in 1Q 2014. Although GAAP net income was down to $59.0 million, or $0.93 per share, net sales were $678.5 million, an increase of 17.5% from the same quarter last year. The Barnes Distribution North America (BDNA) business, which was acquired by MSC last year, contributed approximately $72.4 million to net sales in 1Q 2014. The company declared a cash dividend of $0.33 per share in December.
Article continues below advertisement
Combined with a strong execution of the company's share repurchase program and the early stages of the BDNA growth plan, a healthier environment contributed to MSC's performance. On the improving manufacturing environment, MSC said that recent metalworking-related surveys such as the Metalworking Business Index indicated readings for the past three months have hovered around 50. While only indicative of a flat metalworking environment, this is nonetheless a significant improvement over the below-50 readings through most of last year, and it's consistent with what the company is hearing from its customers.
The company said current order flows and inventory levels are steady, and prospects exist for improved order flow and growing backlogs in the new calendar year. Plus, a budget resolution in Washington is expected to reduce uncertainty for MSC's commercial customers and those directly impacted by federal spending. However, MSC's core customer segments in heavy metalworking are still lagging the broader industrial economy.
In terms of guidance for 2Q 2014, MSC said its adjusted operating margin is expected to be the low point for fiscal 2014. The company expects 2Q to be the lowest-revenue quarter of the year due to normal seasonality, the holiday impact, and the weather. Plus, MSC expects to see its largest sequential lift in operating expenses, excluding volume-related cost. Growth initiatives include vending solutions and e-commerce, which achieved 46% of sales for the first quarter. Adjusted EPS guidance is $0.83 to $0.87, reflecting the current market environment and increased spending on infrastructure and growth initiatives.