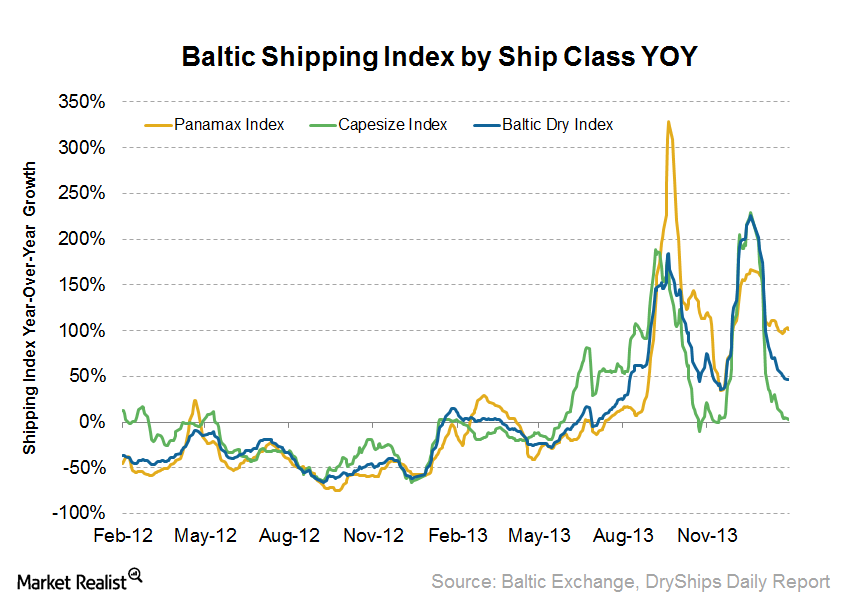 The Baltic Dry Index fell in January but annual growth is positive
Baltic Dry Index
The Baltic Dry Index (a benchmark that reflects the overall shipping rate for transporting dry bulks such as iron ore, coal, and grain across the ocean) has fallen quite a bit since the start of the year. The index, which stood above 2,000 a month ago, fell to just 1,091, as of February 7, 2014. The index for Capesize vessels, primarily used to haul coal and iron for long-distance voyages, experienced the worst drop, falling close to 60% since January 2, 2014. Panamax and Supramax vessels fared better, dropping ~25% across the same period.
Year-over-year
Article continues below advertisement
On an annual basis, the Baltic Capesize Index fell from year-over-year growth of 200%-plus to almost 0%, as of February. The Baltic Panamax Index saw a less dramatic decline, dropping from a year-over-year growth of 162% to 88%, and the overall Baltic Dry Index fell from a year-over-year change of 200%-plus to ~50%.
Note: The year-over-year change in the Baltic Dry Index is the one that's more important because, to an extent, it accounts for seasonality (see Must-know: Unmasking the true drivers of shipping stocks).
Contributing factor
The weakness in Capesize rate reflects a poor supply and demand balance for Capesize vessels. Largely, analysts and shipping experts have attributed this weakness to the Chinese New Year holiday, when manufacturing activity slows down. Naturally, there's less business for commodity exporters.
But the problem isn't just weakness in commodity demand. As mining firms in Australia and Brazil face heavy rains and storms, mining activity and port activities can grind to a halt. Tighter export rules in Colombia and restrictions in ore exports from Indonesia didn't help either, although these are expected to be just temporary issues, while Indonesia's export ban's negative impact on the minor bulk trade could linger. As a result, rates have fallen more than just seasonality demands.
Also noteworthy is that year-over-year growth has fallen drastically because rates couldn't go down as much in 2013, since many shippers were just breaking even at such low rates. So the year-over-year data is also skewed.