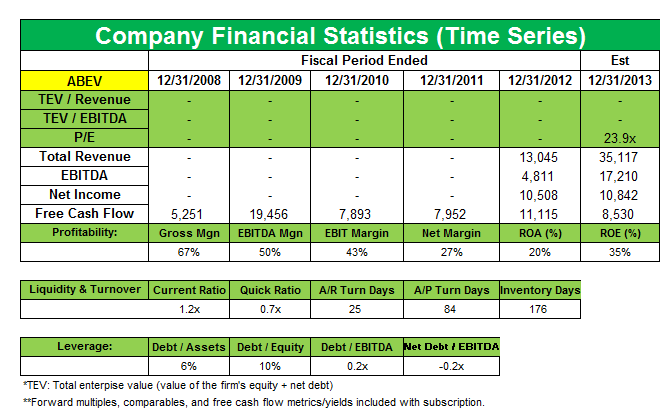 Cantillon gained a position in AmBev via a stock swap merger deal
By Samantha Nielson

Nov. 20 2020, Updated 12:09 p.m. ET
AmBev SA
Cantillon's 3.9% position in AmBev SA (ABEV) replaced the hedge fund's 4.46% position in Companhia Bebidas (ABV) due to a stock swap merger deal in November. Companhia de Bebidas das Americas (AmBev) is a Brazil-based company. AmBev and its subsidiaries produce, distribute, and sell beer, carbonated soft drinks (CSDs), and other non-alcoholic and non-carbonated products in over 15 countries across the Americas.
Article continues below advertisement
In 2012, AmBev, the São Paulo–based subsidiary of Anheuser-Busch InBev (BUD), said it plans to merge its two classes of shares and promote a recapitalization of AmBev, so that it may have a single-class share structure comprised exclusively of voting common shares. The move aimed at reducing administrative costs, boosting share liquidity, and creating  transparency in governance. In this context, which resulted in the merger of all shares issued by Companhia de Bebidas into the asset base of AmBev, each existing ABV American Depositary Share was converted into the right to receive five ABEV American Depositary Shares. The amount of AmBev shares in circulation will jump to 3.5 billion compared to the current 700 million, the company said. The stock swap merger will remove the gap between the company's common share price and its preferred share price. The transaction was expected to expand AmBev's equity base and significantly improve its ability to pay tax-deductible interest on capital.
AmBev's bylaws provide for a mandatory dividend of 40% of its adjusted annual net income. Brazilian companies are allowed to distribute earnings to shareholders under the concept of interest on shareholders' equity—which is equivalent, from an economic perspective, to a dividend, but is usually a tax maximizing way to distribute earnings to shareholders, as it's deductible for income tax purposes up to a certain limit established in Brazilian tax laws.
Article continues below advertisement
AmBev posted a decline in its third-quarter net profit due to lower beer sales. The company said, "The beer industry fell 4.3% in Brazil, still impacted by food inflation growing ahead of general inflation and disposable income increasing by less than the previous year, though in both cases to a lesser extent than what we witnessed in 1H 2013, and weather was not helpful."
Moreover, the company lacked the volume uplift from the FIFA Confederations Cup during the quarter. The company noted that industry softness was also seen in Canada, and (to a lesser extent) Argentina, which continued to impact volume performance.
In terms of outlook, the expectations for the year in Brazil remain mostly unchanged. Given volume performance in the quarter and outlook for 4Q 2013. The company expects the beer industry to be at the lower end of the flat to low single-digit range that was expected for the year. On the positive side, the Brazilian Federal Government's decision not to further increase excise taxes in 2013 is great news, as it should support volumes and create a more appropriate environment for the company to keep its record CAPEX investment plans in place.
Morgan Stanley upgraded the Brazilian brewer's stock price last month and stated, "With continued wage gains into 2014, a favorable calendar (World Cup, timing of Carnival), and an apparently orderly market, we see volume/earnings recovery."
AmBev also has exclusive bottler and distributor rights for Pepsi CSD products in Brazil. AmBev's portfolio includes beers like Antarctica, Brahma, Bohemia, Skol, Stella Artois, and soft drinks like Guarana Antarctica, Soda Antarctica, Sukita, and the innovations H2OH! and Guarah.
To learn more about the beverage industry, see the Market Realist series Boston Beer Company: The rise of craft beer.