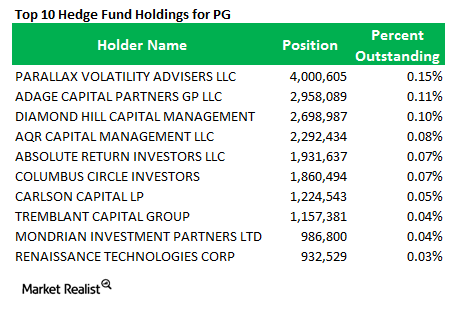 Why did Ackman trim Pershing Square's Procter & Gamble stake?
By Samantha Nielson

Mar. 5 2014, Updated 11:29 a.m. ET
Bill Ackman's Pershing Square has sold off most of its stake in Procter & Gamble (P&G) (PG). The size of the position was reduced from 27,123,893 in 3Q 2013 to 739,605 last quarter. The stock accounts for 0.73% of the fund's portfolio.
The stake was initiated in 2Q 2012. Pressured by activist investor Ackman, who criticized the management for almost a year for the company's performance, P&G replaced CEO Bob McDonald in May 2013 with former CEO A.G. Lafley. Although McDonald had initiated a $10 billion cost-cutting program to improve margins, sales growth remained sluggish in a challenging business environment, and shares continued to lag behind rivals Unilever (UL) and Colgate Palmolive (CL).
Article continues below advertisement
In its recent 2Q 2014 results, the world's largest household products maker saw lower profits, earning $3.43 billion, or $1.18 per share, down from $4.06 billion, or $1.39 per share, a year earlier. Revenue was up 0.5% to $22.28 billion. The maker of Pampers diapers and Gillette razors said organic sales grew 3%. Emerging markets sales grew 8% and outpaced developed markets. The company's beauty division saw weaker results while the health care segment grew 5%.
P&G has been impacted by currency exchange rate movements especially in Venezuela that forced the company to lower its guidance for 2014. P&G also updated its earnings outlook to reflect the devaluation of the Argentine peso, Turkish lira, South African rand, Russian ruble, Ukrainian hryvnia, Brazilian real, and several other currencies to the U.S. dollar. P&G confirmed its outlook for organic sales growth of 3% to 4% for fiscal year 2014. The company expects foreign exchange to reduce sales growth by 2% to 3%, which results in an adjusted guidance range for all-in sales growth of flat to up 2% versus the prior year. P&G adjusted its guidance range for core earnings per share growth to 3% to 5%, from a previous range of 5% to 7%.
Analysts expect the currency exchange movements to be major headwinds. However, a diversified portfolio of brands, growth in emerging markets, and strong dividend yield are positive drivers for the company.