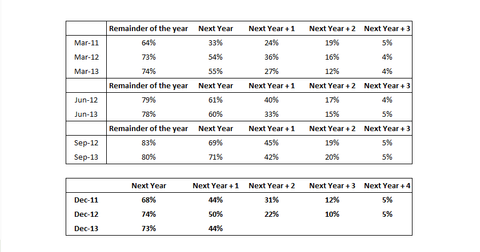 A ~73% backlog doesn't fully protect Noble from industry weakness
By Xun Yao Chen

Updated
Backlog
It's important to note that Noble had committed 73% of the company's available rig operating days in 2014. 78% of the company's floating rig days and 75% of the company's jackup rigs have been contracted out. Noble Corp. (NE) notes that the number of committed days include the two floaters and one jackup that are currently cold-stacked—stored away and pulled out of immediate service.
Noble's large backlog for 2014 certainly shields Noble from some industry weakness. But investors should consider that backlogs are common throughout the offshore drilling industry, because offshore drilling can be quite expensive and oil companies often plan ahead and look at the long-term outlook.
Article continues below advertisement
If a company has a substantial number of days already committed in the near term and changes its use of its backlog over time, investors could see outperformance and underperformance between companies. However, note that Noble's backlogs have been consistent over the last five years, except from late 2009 to 2011—likely due to uncertainties created by the global financial crisis and the Macondo oil spill. Since Noble will continue to bid for contracts in 2014, the company would still be influenced by the soft market. If backlog does fall, it will suggest a weaker market.
Valuations look cheap
Despite higher earnings for fiscal year 2013, Noble Corp.'s underperformance to the broad S&P 500 market suggests the market was already looking ahead at the soft market outlook in 2014, and possibly 2015. Since new ship deliveries tend to arrive on schedule, the market often prices them in early. Demand, however, is much more uncertain.
Since Transocean guided a softer market outlook on November 21, 2013, Noble has steadily trickled lower, while the S&P 500 continued to rise. The market has already started to price in the soft market outlook from a few weeks ago, and based solely on a forward price-to-earnings multiple and its historical levels, Noble looks cheap—at least in the very near term.
But whether Noble, as well as other offshore drillers, has fully priced in the soft outlook will depend on the difference between analysts' projected future earnings and the company's, or companies', actual results. The stock could be cheap or undervalued, but a large gain isn't on the horizon. Since demand tends to be more uncertain, the market would likely want to see confirmation of a tighter market before it runs offshore drillers such as Tansocean Ltd. (RIG), Seadrill Ltd. (SDRL), Diamond Offshore Drilling Inc. (DO), and Ensco Plc. (ESV) higher.
For an overview of Noble's business, see the Market Realist series Must-know: An investor's guide to off-shore driller Noble Corp.