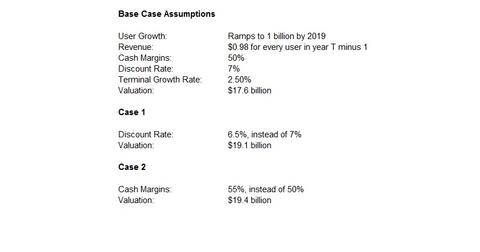 Why $19 billion might not be an absurd price for WhatsApp
By Puneet Sikka

Updated
A reasonable price?
Many investors balked at the $19 billion price tag for WhatsApp. However, our back-of-the-envelope valuation gets us roughly in that ballpark.
We assume that MAU (monthly active users) will ramp up to 1 billion by 2019. Given WhatsApp's current subscription model ($0.99 after the first year), we assume revenues of $0.98 for each MAU from the prior year (with an adjustment for some minimal attrition). For example, the 2013 MAU totalled 450 million, and we assume 450 million * 0.98 of revenues for 2014. We believe attrition will be very low, given WhatsApp's penetration and engagement, as well as its use as a substitute for traditional SMS. We assume cash margins of 50%, which may appear high, but WhatsApp has a very small staff of ~50 people, so its employee costs should be relatively little. And in our opinion, WhatsApp's margins are likely significantly higher than its tech peers.
Article continues below advertisement
In our base case, we assume a 7% discount rate and 2.5% terminal growth rate. We believe WhatsApp's current business model makes it relatively low beta, which means it should be relatively unaffected by movements in the general economy. Whether the economy is good or bad, people will text and will pay $1 a year to do so. In fact, WhatsApp's business is likely even more cash flow–stable than Facebook's, which garners revenues from ads. Ad spending is likely to fluctuate more with changes in the underlying economy.
Using these base case assumptions, we calculate a back-of-the-envelope valuation for WhatsApp of $17.6 billion. Although this is slightly less than the $19 billion sticker price, note that this doesn't take into account any other intangible benefit of the strategic merits of the WhatsApp acquisition. Plus, it's difficult to know what the real growth rate will be—it's entirely possible that WhatsApp will achieve 1 billion users sooner. WhatsApp could also easily charge more than $1 per year from its customers in the future. Plus, tweaking the discount rate a little bit lower or cash margins higher can easily get to the $19 billion price or more. For example, all else equal, using a 6.5% discount rate gets to ~$19.1 billion. All else equal, 55% cash margins gets to ~$19.4 billion.
On the other hand, of course, it's entirely possible that WhatsApp's user growth could stall, or that we're being overly generous in our assumptions of what the company's margins are. However, given our base case assumptions, we don't think ~$19 billion is a completely unreasonable amount to pay for a strategic acquisition in the direct messaging space with strong mobile and international penetration and high growth prospects.
Facebook announced the acquisition after market hours on February 19, when it closed at $68.06 per share. The following day, Facebook stock closed up slightly, at $69.63 per share, signalling that the market generally felt positively about the acquisition.
To learn about how Facebook's similar acquisition of Instagram has affected its business, see Why Facebook's Instagram acquisition is a future growth driver.