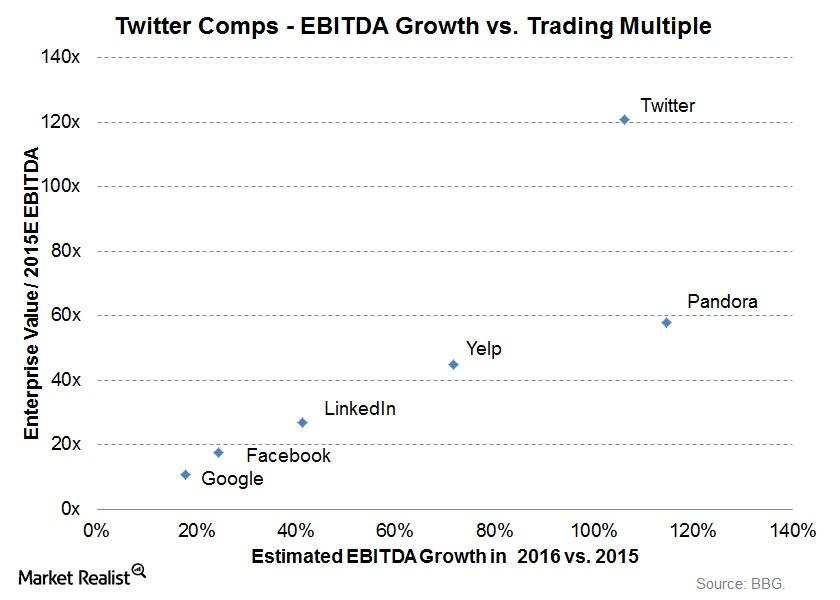 Must-know analysis: How is Twitter trading versus comps?
By Ingrid Pan

Jan. 10 2014, Updated 12:58 p.m. ET
How is Twitter trading?
Currently, using the average of Wall Street analysts' consensus, Twitter is trading at roughly 22x 2015 revenue and 121x 2015 EBITDA. In comparison, Twitter's closest comp, Facebook, is trading at 10x 2015 revenue and 18x 2015 EBITDA. For the range of comps, revenue multiples are around 5x to 10x and EBITDA multiples from ~10x to 60x (ex-Twitter).
We acknowledge that growth is also part of the driver behind Twitter's high valuation. Given analysts' estimates, Twitter revenue will grow at around ~70% CAGR from 2013 through 2015, and Twitter's EBITDA will grow at around ~150% CAGR from 2013 through 2015. However, note that given Twitter's relatively short history, the margin for error around these estimates could be very large.
Article continues below advertisement
The below charts help to visualize Twitter's projected growth rate relative to its trading multiple. The following chart shows the average of analysts' estimates for the growth rate in revenue 2016 versus 2015 and Twitter's enterprise value over its projected 2015 revenue. As expected, higher projected growth corresponds to a richer multiple.
The below chart compares EBITDA growth in 2016 versus 2015 compared to EV/2015E EBITDA multiples. Note that for companies just starting up with high projected growth, EBITDA can grow at a very high rate for awhile. However, such growth rates aren't sustainable over the long term.
As we noted, Twitter seems to be trading a very rich multiple, even while factoring in the projected growth of the company. Also, note that these metrics represent estimates into the future. Twitter could grow more quickly or slowly than analysts' expectations, as could its comps. For more on Twitter's hype, see Why Twitter is like the cronut—in demand, but hyped and overvalued.