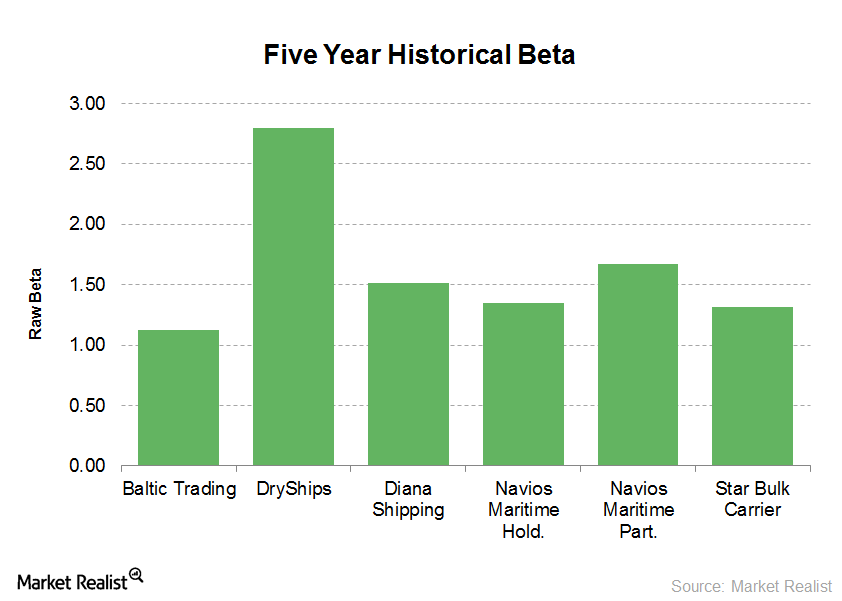 Tip: Accept dry bulk shipping volatility and make better decisions
By Xun Yao Chen

Nov. 26 2019, Updated 9:55 p.m. ET
Volatile nature
As we saw in the last article in this series, shipping rates can be volatile. Naturally, dry bulk shippers' shares are also volatile. While some of that volatility could be reduced via diversification or by investing in the Guggenheim Shipping ETF (SEA), this industry may not necessarily be for everyone.
Plus, if investors are on the wrong side of the trend and have large exposure to these risks, they could lose a substantial amount of capital—especially if they invest in companies with little time charter coverage and more exposure to the spot market.
High beta
Article continues below advertisement
Beta is a measure of a stock's market risk. It's a simple number that tells investors if the market (the S&P 500) falls or rises by a certain percentage over a period, plus how much that movement would likely impact respective companies. Companies like DryShips Inc. (DRYS), Diana Shipping Inc. (DSX), Navios Maritime Partners LP (NMM), Navios Maritime Holdings Inc. (NM), and Safe Bulkers Inc. (SB) as a whole have beta close to 1.50x. This means if the market moves 1.0%, these companies will likely change 1.5% over the same period.
Factors for high beta
This is normal since dry bulk shippers' earnings are more sensitive to the overall economy or market, like most industrial companies. The combination of high fixed costs and variations in shipping rates are two factors that make industrial companies more volatile. Dry bulk shippers are also more risky because much of their business depends on developing countries and emerging markets—particularly China.
Drawback
The drawback of beta is that it doesn't capture risk and opportunities that more closely relate to the company or industry. Regardless of what the market does, shipping companies could outperform or underperform the market.
A comment on risks
Investors should note that higher risk doesn't necessarily reward high returns, but that higher risks must be accommodated by high returns. Risk is also subjective, based on where you think shipping rates will be in the next few months or quarters, which depends on the quality of analysis and the degree of objectivity. If you're very convinced that rates will be higher than the market's expecting, risk may be considered small, or vice versa.
Investing in dry bulk shippers requires an understanding that movements in share prices could be volatile. The earlier that investors recognize and accept this fact, the more likely they're able to avoid decisions based on fear.
So when are some of the best times to get into dry bulk shipping companies? Find out in the next article in this series.