Why Blue Ridge Capital started a position in Tesla Motors in 3Q13
By Samantha Nielson

Jan. 21 2014, Published 8:00 a.m. ET
According to 13Gs Blue Ridge Capital filed last month, the hedge fund disclosed new positions in Zulily (ZU) and PBF Energy (PBF). The filings stated that Blue Ridge currently owns 6.05% in Zulily, with 799,811 shares, and a 7.82% stake in PBF, with 3,095,000 shares.
A November 13G filing showed that Blue Ridge increased its position in Avis Budget Group (CAR) and at present owns a 6.17% stake, with 6,613,700 shares.
For more information on Blue Ridge Capital and its investment strategy, please see the last part of this series.
Blue Ridge Capital's top new buys in 3Q 2013 per its 13F filing were American Homes 4 Rent (AMH), Tesla Motors Inc. (TSLA), Cliffs Natural Resources (CLF), and BlackBerry Ltd. (BBRY). The hedge fund exited its positions in Owens Corning (OC), Equinix Inc. (EQIX), and Realogy Holdings Corp. (RLGY).
Blue Ridge Capital's two largest stock holdings are Priceline.com Inc. (PCLN) and American International Group Inc. (AIG), which account for 4.88% and 4.52% of the hedge fund's portfolio, respectively.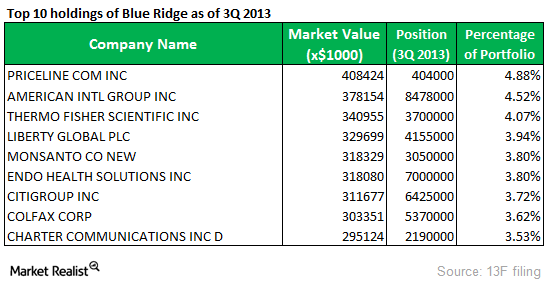 Why buy Tesla (TSLA)?
Electric car maker Tesla Motors (TSLA) accounts for a 1.16% position in Blue Ridge's total portfolio as of 3Q 2013.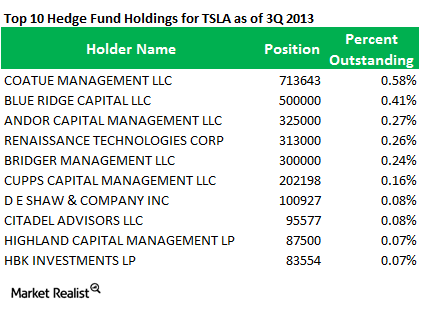 Article continues below advertisement
Tesla saw its stocks spike recently when it announced that it posted record sales in 4Q of 2013. With almost 6,900 vehicles sold and delivered, the company has exceeded prior guidance by approximately 20%. In 3Q 2013, the company posted a narrower net loss, but shares fell due to the luxury electric car maker's disappointing outlook for revenue and profit.
In 3Q 2013, the company said it had achieved record levels of Model S production, deliveries, and vehicle gross margin. Demand for Model S has seen growth in North America and Europe. The company began to take reservations in China during 3Q, and it anticipates its first Model S deliveries there in 1Q 2014. Tesla ended 3Q 2013 with a record of slightly over 5,500 deliveries, including over 1,000 deliveries to European customers. The company has expanded its 2011 supplier agreement with Panasonic. Under this new agreement, Panasonic will increase its production capacity of automotive-grade lithium-ion battery cells to supply Tesla with a minimum of 1.8 billion cells over four years, more than three times Tesla's previous agreement.
Analysts are bullish about the California-based Tesla despite the company being under a safety probe by U.S. regulators in connection with two road fires of Model S sedans. JP Morgan stated in its note on Tesla's 3Q results that it's encouraged by an improving gross margin trend. Tesla said Model S gross margin may continue to see slight improvements over the next several quarters as the company continues to drive down manufacturing costs. While the company expects to achieve its target of 25% non-GAAP automotive gross margin in 4Q (assuming no contribution from zero-emission vehicle credits), further progress is likely if customers continue to purchase Tesla's vehicles with a high option take rate.
Tesla Motors, Inc. designs, develops, manufactures, and sells electric vehicles and electric vehicle powertrain components. The company also provides services for the development of electric powertrain systems and components, and sells electric powertrain components to other automotive manufacturers. Tesla Motors markets and sells its vehicles through Tesla stores as well as over the Internet. As of October 3, 2013, the company operated a network of 42 stores and galleries in the United States and Canada. Tesla Motors, Inc. was founded in 2003 and is headquartered in Palo Alto, California.