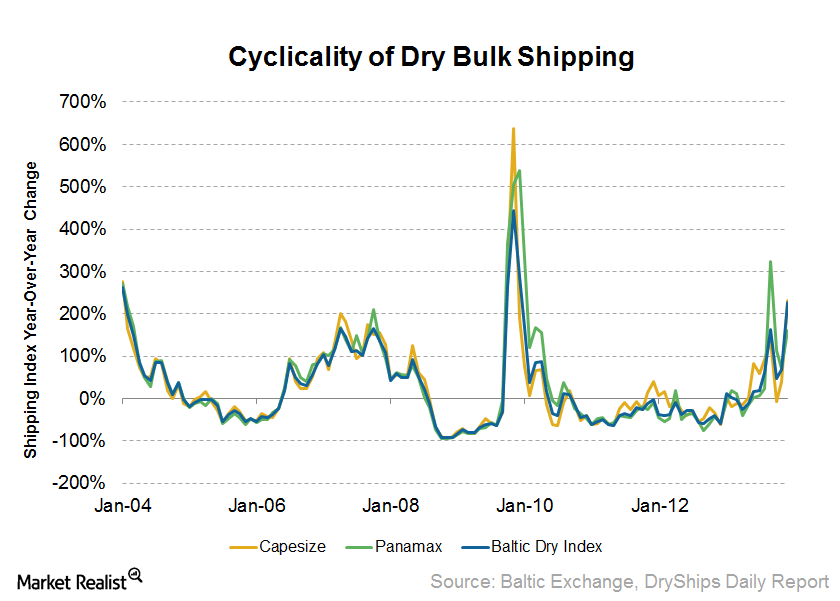 Why we could see fewer volatile swings in dry bulk shipping stocks
Multiple strategies
There are several ways to play dry bulk shippers. You can trade or you can invest. If you traded based on the idea that the BDI was falling, you got lucky this time (see the previous articles in this series). Everyone has a different personality. Naturally, everyone makes different buy and sell decisions. Some might find a niche day trading dry bulk shippers. Others might develop quantitative methods to trade in and out.
I want to swing trade it!
Article continues below advertisement
Most people, though, don't really have the time to get involved to capitalize on short-term movements in dry bulk shippers. The recent volatility we've seen among dry bulk shippers can scare people into thinking they should trade in and out of the stock. But note that the first rally that started in late summer was driven by "surprise," later followed by skeptics questioning sustainability and analysts saying the change was driven by seasonality.
The first sell-off
Multiple new share issuances, which reduce the amount of "current" earnings available to shareholders, and low-priced new shares also negatively affected stocks. While we don't have a solid picture on the changes, analysts have been raising guidance and outlooks throughout the last few months. You could say the banks could have priced new share issuance in late summer at quite a discount. Many even had the option to purchase shares themselves as part of the deal. Of course, dry bulk shipping managers did want to raise cash to fund new vessel purchases or for liquidity needs.
The second round
Article continues below advertisement
Dry bulk companies started to rally in November as the BDI (note the year-over-year change) rose again—surprise! Seasonal weakness, inelastic supply, and low base rate led to the recent sell-offs (see the previous article in this series), still making things quite volatile. Volatility won't go away, as we said in Tip: Accept dry bulk shipping volatility and make better decisions, but it could fall as people's perspectives merge with reality. Last time dry bulk shippers fell, analysts had cautioned investors. Now, they're saying investors should buy.
The best time to invest
The best time to invest in something is when fundamentals are starting to improve or in the early stage of better prospects. 2013 was the start of that up cycle (read our business overview for more information on cyclicality), with smart investors scooping up DSX and NM.
We don't know how long this up cycle will last, but historically, these cycles have lasted for two to three years, and we're more or less still in the earlier part of the recovery. Investors shouldn't catch falling knives when they don't know when things are turning bad. But they should take advantage of short-term profit taking when the industry and global economy appear to be moving along well or about to bounce. For those who can't take the volatility, the Guggenheim Shipping ETF (SEA) is an option.
For information on how the economy is doing, please read Market Realist's latest dry bulk shipping economics series. Industry-related series will follow at a later date.